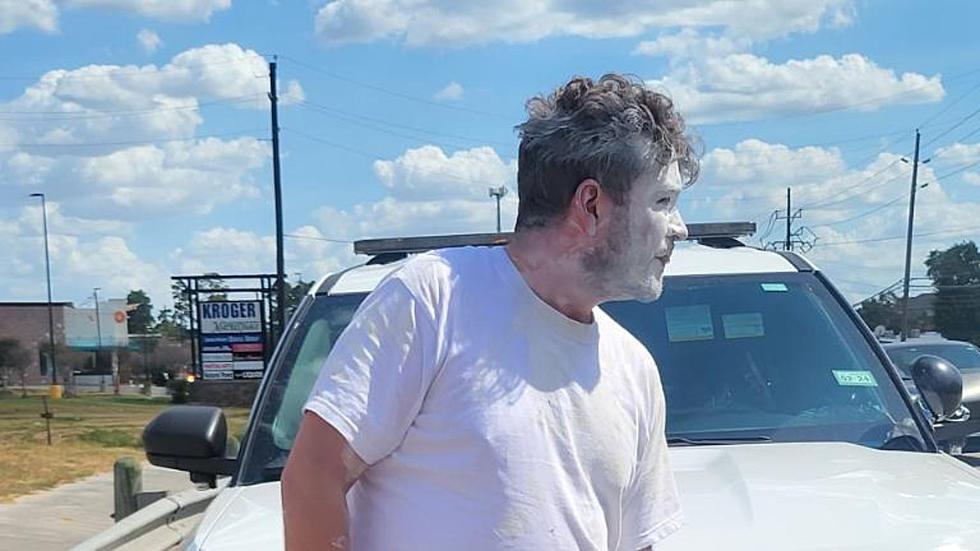 Two Guys Spray Painted Eachother In A Road Rage Incident
Mark Herman, Harris County Constable Precinct 4
Road rage is weird. You get cutoff in traffic, you yell, you honk, and sometimes that's it. If you've ever been in a situation where it came to blows, you know that the two of you typically will beat the crap out of each other, and then go on your way because you solved your differences. Every once in a while, someone will take out a weapon of some kind, and that's when things get not cool.
Deputies in Harris County, Texas, had to respond to one of the more bizarre road rage incidents we've ever heard of, and they shared some of the pictures from the scene on their social media.
Friday afternoon, deputies arrived to a call of a road rage fight happening near a large strip mall in the Houston area.
Lone Star State law enforcement got to the scene and saw something they weren't expecting - both of the suspects had their faces painted. Not like a tiger from the carnival, but painted totally white.
"Upon deputies arriving, the complainant reported that while traveling north bound in the 24000 block of Kuykendahl Road a driver in front of them was distracted with his phone and failed to maintain a single lane," the constable's office wrote. "While stopped at a red light, the distracted driver failed to progress when the light turned green. The complainant responded by sounding his horn."
One of the drivers explained what happened. Something had happened where one of the drivers honked at the other, identified as David Winston, while they were in motion. Winston allegedly threw some objects from inside his car at the vehicle that honked.
When the two stopped at the next light, things got even more heated.
Winston got out of his car and spray painted the other driver's face and vehicle, and broke their back window. It's not clear how or when, but somehow Winston ended up getting spray painted in the face with white paint as well.
When law enforcement got to the scene, both of the men had been spray-painted white. It's not known if the paint on Winston's face was his own paint used by the other driver or if the other driver had a can of his own in his car.
Winston was determined to be the one culpable of the situation, so he was detained.
"David Winston was arrested and booked into the Harris County Jail, charged with Felony Criminal Mischief," Herman said. "His bond was set at $1,500.00 out of the 179th District Court."
Felony criminal mischief can be punished by up to several years in prison depending on the severity of the damage done.
Read more at Law & Crime
WOOF: These are the most popular dog breeds in America