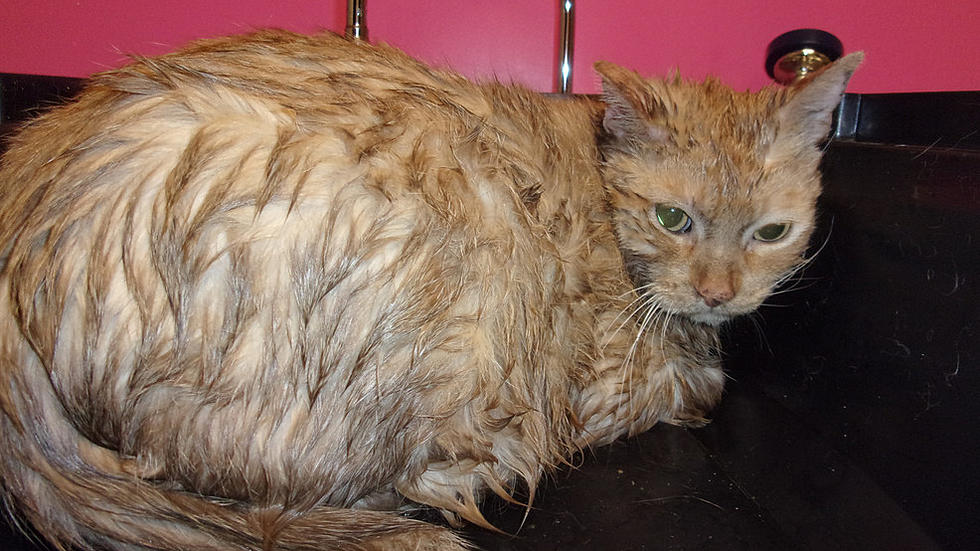 Cedar Rapids Police Say Cat Was Thrown Into Cedar River
courtesy of CRPD
CBS2 reports that a 7-year-old tabby cat is recovering after police say a man dumped her into the Cedar River in Cedar Rapids.
Police received the call at around 8:19 Wednesday morning that an individual had thrown a cat from the Third Avenue bridge. A Cedar Rapids police officer was able to locate the cat trying to escape the river on a rock near Mays Island. Linn County Sheriff's deputies were also on the scene and were able to rescue the cat, which was caught under a rock, according to CBS2.
The cat was transported to Cedar Rapids Animal Care and Control where it was examined by a veterinarian. CBS2 reports that police officers spoke with a witness who stated that the cat was intentionally dropped out of a cat carrier and into the river. Soon, the owner of the cat showed up in the lobby of the Cedar Rapids Police station. He is identified as 86 year old Lloyd Wallace Baird. He wanted to know if officers had found his cat.
Baird told police officers that he was driving near the Cedar River and decided that he wanted to look in the water. CBS2 says that Baird claims that he had his cat in the carrier, and he wanted the cat to look at the river. Allegedly, when he opened the carrier door, the cat panicked and jumped into the river. There was only one problem. Police officers were able to get surveillance video of the entire incident.
CBS2 reports that Baird is accused of leaning over the bridge, holding the car carrier over the river with the door open and facing down. Police say that Baird then shook the carrier, which caused the cat to fall into the river. Baird was arrested and charged with Animal Abuse, an aggravated misdemeanor.
Things Iowa Pets Steal From Their Owners