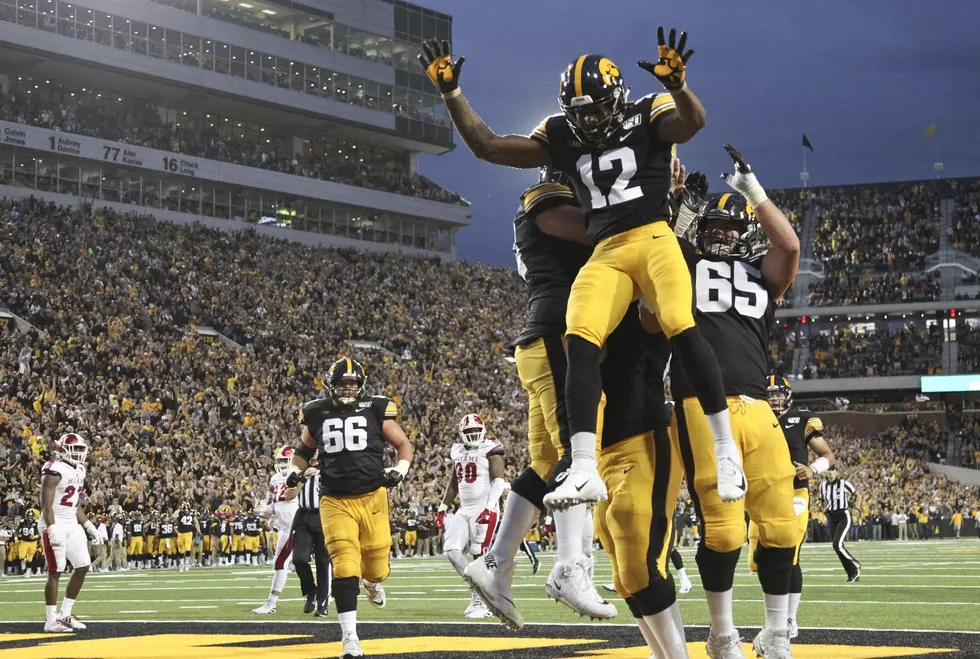 Will Iowa Fans Hang at Hawkeyes Home Opener?
Matthew Holst, Getty Images
The Iowa Hawkeye have won six straight home openers, and as the team prepares for this Saturday's game against Northwestern, fans are wondering if the team can bounce back after its loss to the Boilermakers last week.
Another question is how many Hawkeye fans will be taking it to the streets and throwing an impromptu Halloween-themed hang?
The Iowa vs. Northwestern kickoff at Kinnick will be at 2:30 p.m. and the game will be televised on ESPN. No fans will be allowed inside the stadium for the game.
Hawkeye Sports reports that "Tailgating will not be permitted during the 2020 Hawkeye Football season. All University owned and operated parking lots will be closed on gamedays."
But it's a pretty good bet to assume some Hawkeye fans will be parading up and down Melrose Ave. visiting front yard parties and basically mingling with other fans. You'll likely see fans in costumes.
Observers are calling it "pandemic fatigue" and you don't need a dictionary to look up the definition. It seems everywhere you look, people are venturing out more and more in spite of daily reports documenting rising Covid-19 cases, hospitalizations and deaths.
People are just plain tired of this lockdown.
They're also tired of all the political crap. Negative ads, stolen yard signs, shouting matches disguised as debates. And sadly, it won't end on November 3.
So if folks are going to gather in groups for a bit of tailgating fun it's still important to protect yourself.
Here are two quick hints on how to safely party on the front porch patio this weekend:
Use gloves, hats and scarves to cover all that exposed flesh
Use a straw to suck down all that sweet alcohol juice.
So, be safe and party on!
Enter your number to get our free mobile app
KEEP READING: Here are 50 of the most famous sports goofs