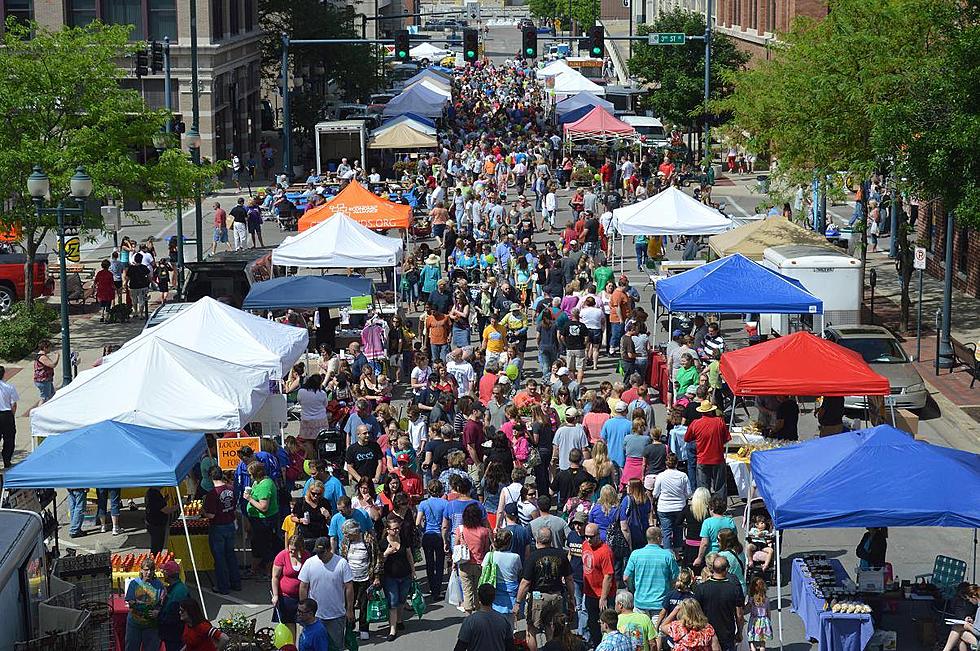 What You Need to Know for 2023's Downtown CR Farmers Markets
Cedar Rapids Farmers Market and Buy Local Initiatives, Facebook
The very first Downtown Cedar Rapids Farmers Market of the season is just a few days away, and we could not be more excited! The 2023 markets will feature 200 different vendors, live entertainment, food, and a whole lot more.
According to a recent article from the Cedar Rapids Gazette, the Cedar Rapids Downtown Farmers Market will have a few new additions this year. Guests may notice some featured nonprofit organizations at each event, as well as a coffee shop vendor on almost every block. One thing that won't change is the set-up. As you can see from the market map below, most streets will only have vendors on one side. That gives the vendors more visibility and helps with crowding.
The Cedar Rapids Metro Economic Alliance website offers a few tips for folks planning to attend this year's markets. The first thing that's important to note is that the farmers markets take place rain or shine, so it's a good idea to check the forecast ahead of time. It's also recommended that you bring your own bags to carry all your purchases in. I actually bought a big, homemade bag from one of the vendors last year that I bring to every single market I go to now!
As far as pets go, dogs are allowed at the market, but the Cedar Rapids Metro Economic Alliance suggests leaving them at home. Anybody who has been to a market during peak hours will tell you that the streets get VERY crowded and can sometimes be difficult to navigate. If you do decide to bring your pup, they must be on a leash no longer than 3-feet, you have to keep them away from produce, plants, and prepared food, and you will be required to clean up after them. The website for the market also makes this note:
"Farmers Market staff and volunteers reserve the right to ask any pet owner to remove their pet from our venue at any time and for any reason. Pet owners will be held liable for damages caused by animals at the market."
The final important piece of information you should know ahead of the farmers market is that there is absolutely no smoking allowed within the market barricades.
The first Downtown Cedar Rapids Farmers Market of the year is set for this Saturday, May 27th from 7:30 a.m. to 12 p.m. Here are the rest of the 2023 dates:
June 3rd
June 17th
July 1st
July 15th
August 5th
August 19th
August 26th (Market After Dark - 6:30 p.m. to 11 p.m.)
September 16th (Fall Market)
For more information about the markets, you can check out the official website HERE. You can also see a list of other Eastern Iowa farmers markets happening this summer HERE. Happy shopping!
The Corridor Businesses That Iowans Miss the Most
Is there a Corridor-area business that you really miss? Here are some of the responses from Iowans on Facebook!
Cedar Rapids Balloon Glow 2022
Balloon Glow 2022 was a huge success for the Cedar Rapids Freedom Festival! Here are some photos from this year's event!