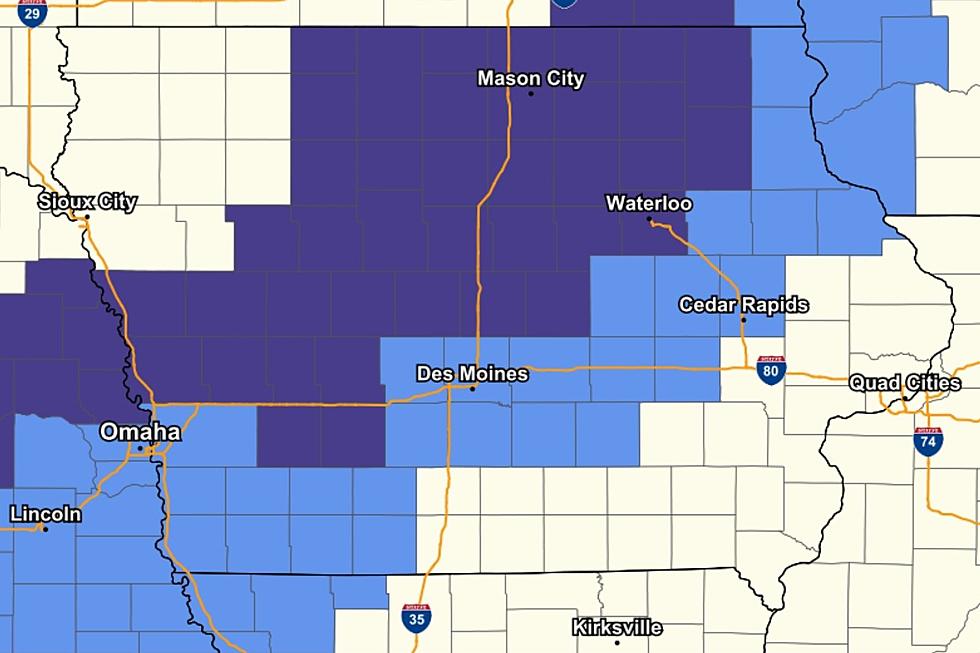 Frost Advisory Tonight in Cedar Rapids
weather.gov
It's happening much later than normal, but Cedar Rapids looks to be receiving its FIRST FROST of the fall season late Thursday night/Friday morning -- with another round of Frost on Friday night/Saturday morning.
25 Counties in Iowa, including Linn, are in a FROST ADVISORY tonight, from the National Weather Service in Davenport:
FROST ADVISORY IN EFFECT FROM 1 AM TO 9 AM CDT FRIDAY...

WHAT...Temperatures as low as 33 will result in frost formation.

* WHEN...From 1 AM to 9 AM Friday.

* IMPACTS...Frost could kill sensitive outdoor vegetation if left uncovered.
To the North and Northwest, the National Weather Service in Des Moines has issued a Freeze Warning, including Waterloo/Cedar Falls.
Last year, the first time of the fall season to dip at/below 32* was October 2 when it was 30 degrees. The forecast from the National Weather Service in the Quad Cities says that tonight's low should be around 33*.
The numbers represent areal coverage...
1 = Patchy Frost
2 = Areas of Frost
3 = Widespread Frost
Frost is predicted when air temperatures reach 32°F (0°C), but because it is colder closer to the ground, a frost may occur even when air temperatures are just above freezing.
Light freeze: 29° to 32°F — tender plants are killed.
Moderate freeze: 25° to 28°F —widely destructive to most vegetation.
Severe freeze: 24°F and colder—heavy damage to most garden plants.
The latest in the season that Cedar Rapids has gone before hitting 32* or colder was November 8, 1900.
The Old Farmer's Almanac says that the first Frost in Cedar Rapids generally falls in the first week of October.

The Iowa Department of Agriculture and Land Stewardship shows the average date of the first freeze across the state falls between September 30 and October 15.
Iowa School Bus Airbnb Features Amazing Scenery [PHOTOS]
This fully renovated Skoolie sits along the banks of the Upper Iowa River.
KEEP READING: Get answers to 51 of the most frequently asked weather questions...