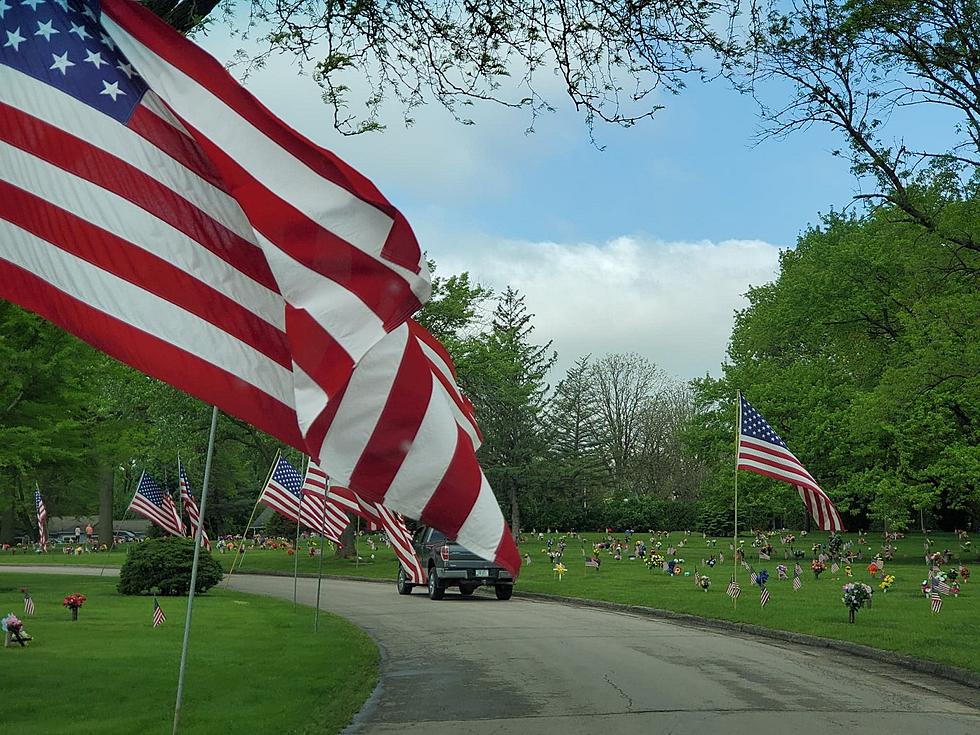 Cedar Rapids Cemetery Hosts Memorial Day Weekend 'Avenue Of Flags' [PHOTOS]
Julie James
What's easily one of the most beautiful traditions in the corridor will continue this Memorial Day weekend.
Cedar Memorial Cemetery in Cedar Rapids will again be hosting their Avenue of Flags from Saturday morning, May 29, through Memorial Day evening on Monday, May 31. The transformation of the cemetery to red, white, and blue is a huge undertaking. So huge that volunteers are needed each year to make it all happen.
When I say undertaking, I absolutely mean it. There are approximately 7,500 American flags placed on the graves of veterans at the cemetery. That begins at 8 a.m. Saturday, May 29, and takes anywhere from two to four hours, depending on the number of volunteers that assist. If you're able to help, please meet at the lower level of the family center at 7:45 a.m. Saturday morning, May 29. If you can help to pick up the flags, that happens on Tuesday morning, June 1.
The Avenue of the Flags gets its name from all the roads in the cemetery being lined with American flags. There are around 1,500 full-size flags lining the avenues of Cedar Memorial. According to the Cedar Memorial website, the flags have been donated over the last seven decades by veterans' families.
Julie and I visited Cedar Memorial's Avenue of Flags last Memorial Day weekend. You can see photos below, including some of the famous swans. If you've never been, I strongly encourage you to take your family for a drive-through this weekend. The cemetery is located at 4200 First Avenue N.E. in Cedar Rapids, with the entrance and exit off First Avenue.
Cedar Memorial's Memorial Day Weekend Avenue of Flags