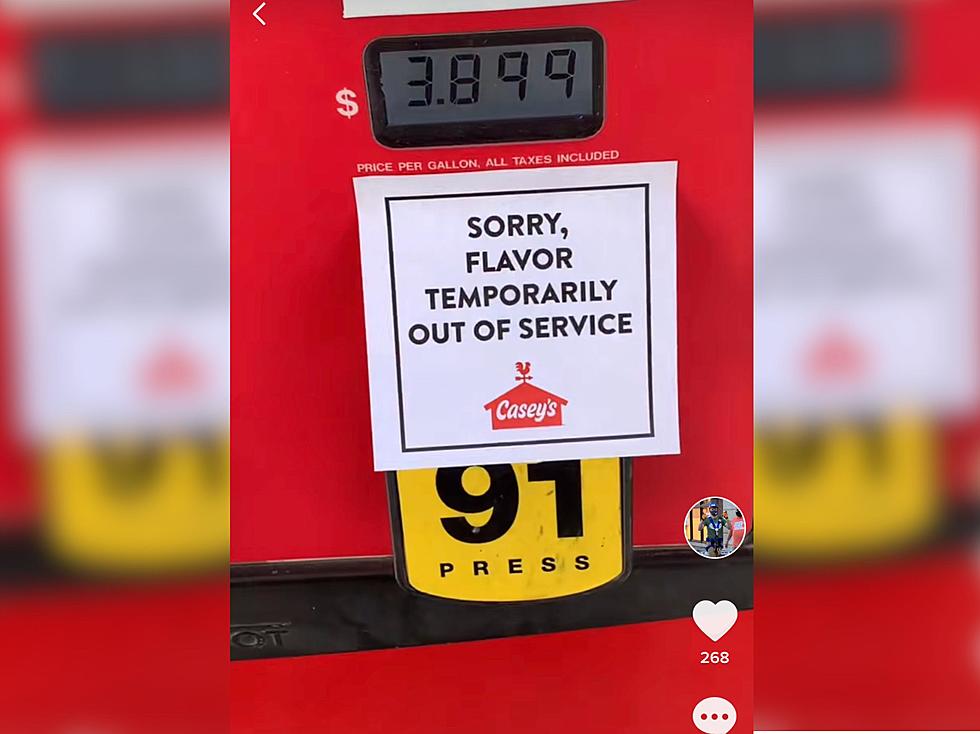 Hey Iowa, What's Your Favorite Flavor Of Gas?
Source: Jake Truemper Townsquare media
If you clicked on this article to yell at me for saying flavor that's totally fair, no one would refer to types of gas as flavors.
I'm someone who laughs the hardest at the smallest thing and dumbest things. This small thing had me laughing for way too long, but it also made my day.
Also before you ask my favorite flavor if Super Unleaded.
I had a long drive to Cedar Rapids, and while I was filling up, I saw this note.
Needless to say, I was having a long day yesterday, and to grab some gas. As I pulled up, I laughed to myself, clearly, this note belongs on an out-of-order soda/pop machine, but I mean technically it works here too... More or less.
So I once again ask you... What's your favorite flavor of gas?
Long story short, I was having a bad day, and this one phrase made it better. No matter how stressed you get always let the little joys, or fun help make your day better.
If you drive a lot, and those gas prices are causing you some stress (I know that feeling,) and a funny note can't fix it... You can win up to $10,000 with us, and Cash Cow! 
Listen to K92.3 weekdays for codewords. There are 10 of them (yes, 10!) every weekday, so get ready to spend some extra time with us over the next few weeks. When you hear a codeword, enter it below. You could be one of two, $1,000 cash winners for the day. Once the contest wraps up on Oct. 15, one person will be announced as the winner of $10,000. DOWNLOAD THE K923 APP NOW so you can listen for those codewords everywhere you go.
Roseanne Barr Abandoned Iowa Mansion in Eldon, IA
I fell into a rabbit hole when I found out that
Roseanne Barr almost had a mansion in Iowa
. After seeing the current state of the property on Facebook, I was amazed that such an extravagant project could be so quickly overtaken by nature. Only two hours away from Waterloo, this abandoned field could have hosted some of the coolest and elite Hollywood parties in the Midwest. The current photos were taken by Gable Fry on a recent trip he took.
Iowa Ghost Legends & Spots
Here are the photos of some of the "best" haunted locations in Iowa.