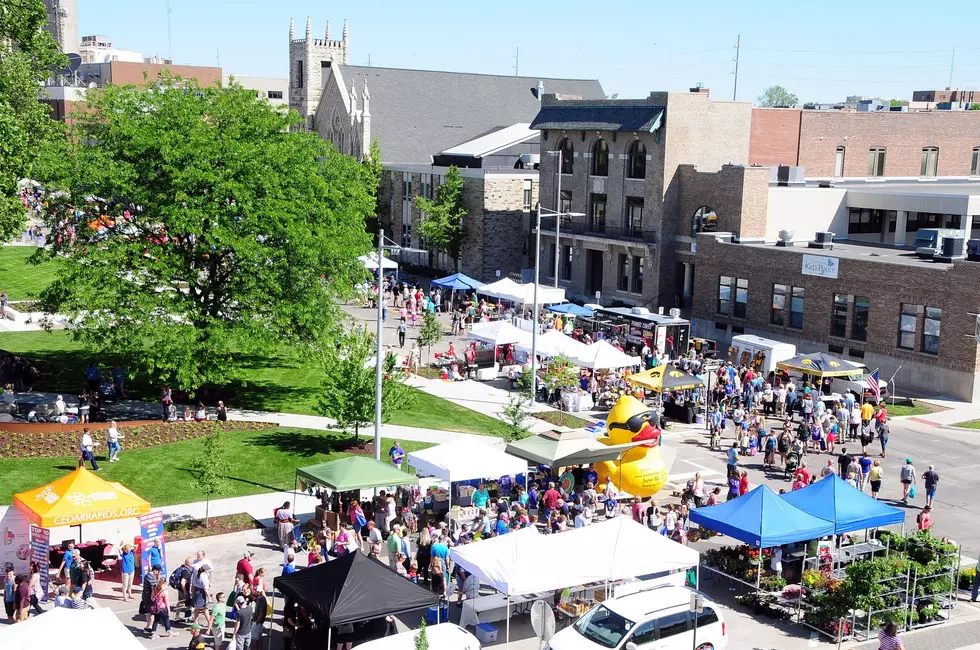 What To Expect At This Year's Cedar Rapids Downtown Farmers Markets
Cedar Rapids Metro Economic Alliance
Eastern Iowa, it's time to go back to the market. The 2021 Cedar Rapids Downtown Farmers Market returns a month from today, on June 19, and this year's eight events are in-person!
It's hard for me to wrap my mind around the fact that this is year 16 for the very popular markets and here's what you can expect in 2021.
When Are This Year's Downtown Cedar Rapids Markets?
This year, the markets will all be held on Saturday mornings from 7:30 a.m. to noon. They're on
Saturday, June 19
Saturday, July 3
Saturday, July 17
Saturday, August 7
Saturday, August 21
Saturday, September 4
Saturday, September 18
Saturday, October 2
Pop-up COVID-19 vaccination clinics will be held at the markets on June 19 and July 17. The Johnson & Johnson one-dose vaccine will be available to those 18 and over and the two-shot Pfizer vaccine for those 12 and over. If you receive your first Pfizer vaccine on June 19, you can get your second shot at the July 17 market.
Is There Usually A Market In October?
Not typically, but who knows... it could become a tradition. Both vendors and attendees have expressed that a market in the fall could be very popular. The October 2 event, just a few weeks before Halloween, will likely include pumpkins, gourds, apples, cider, and many other fall-themed items.
How Many Vendors Will There Be?
In a media release, Cedar Rapids Metro Economic Alliance Events Planner Ellie Evans says,
At the beginning of the season, Farmers Market patrons will see around 100 vendors spaced out and using only one side of the street. This is all just a starting point, and we will continuously evaluate protocols and programming throughout the season in response to the fluctuating COVID-19 virus infections levels and vaccination rates. We hope to gradually increase vendors throughout the season as well as utilize both sides of the street.
Where Exactly Will The Market Be This Year, and What Vendors Will Be There?
To start the market season, vendors will be socially distanced from First Avenue to Fourth Avenue and from First Street to Sixth Street. Signage throughout the market will encourage pedestrians to all walk in the same direction on each street. You can see a list of vendors HERE. Vendor maps will be available HERE as each market gets closer.
Will We Need To Wear Masks?
Masks are encouraged for both vendors and attendees and you're asked to social distance and limit interaction with vendors.
Where Can I Park?
The Five Seasons and Fourth Avenue ramps are free, as are the Paramount Theatre and GTC lots. Parking at the Convention Center ramp is just one dollar. Handicap parking is available in all of those locations. Free on-street parking is also available on Saturday mornings.
More information about 2021 Cedar Rapids Downtown Farmers Markets is available HERE. You can apply to be a vendor HERE. If you'd like to volunteer at any of this year's markets, you can do so HERE.
Even though drive-thru markets were held in downtown Cedar Rapids last summer, it just wasn't the same. The streets were too quiet. I can't wait to see these wonderful events return, along with the people. I think we can all agree last summer was just too quiet. It's great to have things to look forward to again.
Corridor Home For Sale For More Than $3 Million
A Look Inside the Bohemian in Cedar Rapids