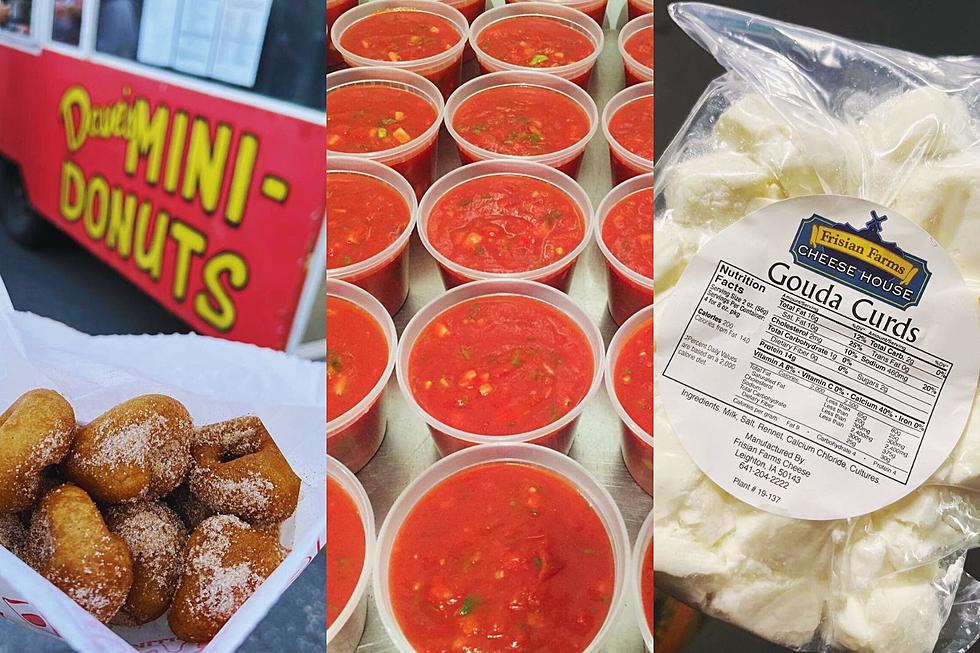 One of Our Favorite Downtown Farmers Market Vendors [PHOTOS]
Courtlin, The Salsa Guy/Facebook
To be totally honest with you, I'm not really a fan of summer. But, I absolutely love certain summer activities, and that includes the Downtown Cedar Rapids Farmers Markets!
I've been to both markets that have happened so far this season, which means that I've already spent WAY too much money. It's supporting local businesses, though, so I don't feel as bad about it! I like to get to the markets first thing in the morning to beat the heat and the crowds.
There are around 200 vendors at each of this year's farmers markets, which means there is a LOT to take in. I put together a list of a few of my favorites, but I'm looking forward to exploring more in the weeks to come! Here are some of the businesses I love to visit:
My first stop at every market is the O's Grill food truck (it's set up right outside our work parkade!). I always get a breakfast wrap with chicken and it is ALWAYS amazing. I just can't resist!
I've said it before and I'll say it again: the gouda curds at Frisian Farms are the best ever. I've turned several friends and coworkers onto them and everyone loves them just as much as I do. I typically finish the bag before the weekend is over!
Almost Famous Popcorn has all sorts of awesome flavors, but I just can't get over how good the standard cheddar cheese popcorn is. I started by buying a small bag, but now I get a giant one every market. My fingers are stained orange at this very moment!
Dave's Mini Donuts
Does this even need an explanation?! Who doesn't love hot, fresh, mini donuts topped with cinnamon and sugar?!
The summer salsa from The Salsa Guy is unmatched. If I don't pick up a jar at the farmers market, I can usually get one at my local Hy-Vee. SO GOOD.
There's nothing like fried food for breakfast! I love a good breakfast eggroll or crab rangoon, it doesn't matter what time of day it is!
I've never had one thing from Great Harvest that I haven't loved. The bread is always delicious, but don't forget about the sweets... especially the cinnamon rolls!
There are a ton of local wine vendors that I'm looking forward to trying this summer, but Ackerman is always a good choice. It's my mom's favorite, so I typically try to pick some up whenever I'm headed back to Michigan to visit her. I don't make it over to the Amanas often, so it's nice to visit their booth for a few samples!
It's impossible for me to go to a farmers market and not bring home something for Tater. I always grab him a pupcake or bag of homemade treats from Kaitlyn's adorable pink truck!
Like I mentioned before, I have to get Tater treats when I'm at the market, and the ones from Breezy's are awesome! They are homemade and you can hand pick which flavors you want in your bag. Tater loves them!
I'd like to throw a few additional shout outs to Oh Grace Boutique, where I got my ADORABLE Iowa sweatshirt from, Green City Living for the best Farmers Market bag of all time (purchased in 2022), and Lost & Found Design Co. for the amazing sunflower wall art! I'm also looking forward to trying a bagel and cream cheese from Schmears, which is new this year. Let us know some of your favorite vendors in the comments!
Vintage Cedar Rapids Postcards Show Us City's Amazing Past
Take a look through some historic postcards of Cedar Rapids. Enjoy this trip back in time.
A Look Back at Lindale Plaza in Cedar Rapids
Lindale Plaza opened on Cedar Rapids' northeast side in 1960. Two decades later the plaza area was enclosed, resulting in Lindale Mall.