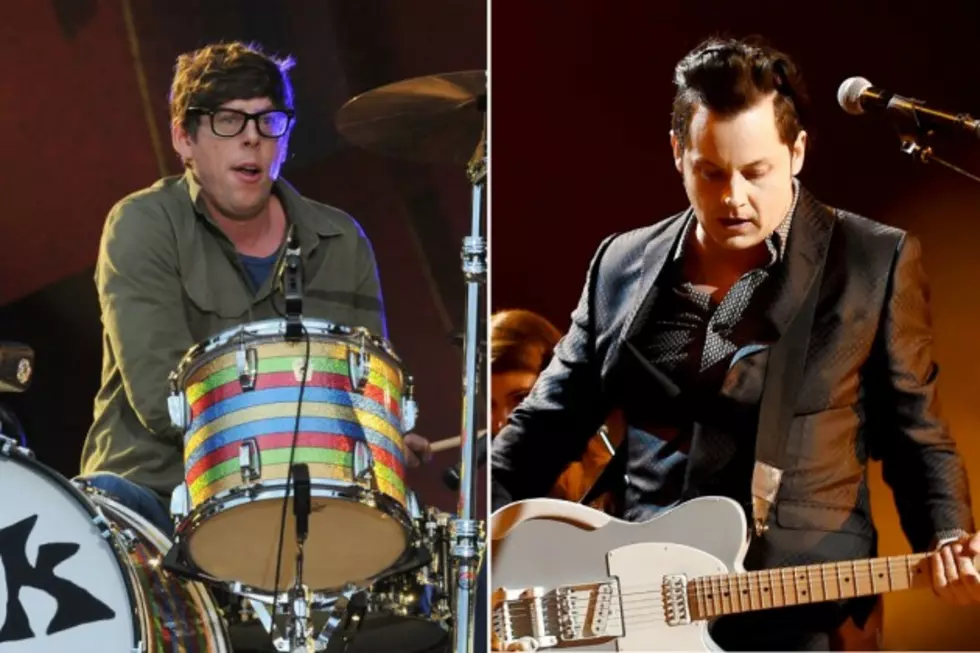 The Black Keys' Patrick Carney Says Jack White Tried to Fight Him in a Bar
Theo Wargo / Larry Busacca, Getty Images
It's been more than a year since Jack White apologized for accusing the Black Keys of stealing his sound, but it looks like the one-time feud has reignited following a run-in between White and the Keys' drummer Patrick Carney.
Early this morning (Sept. 14), in a series of tweets, Carney claimed the two artists ran into each other at a New York City bar, and White "tried to fight him." Carney went on to describe White as a "40 year-old bully" and "Billy Corgan's dumb ass zero T-shirt in human form" while self-deprecatingly calling himself "not the best drummer but a passionate one" and a "35 year-old nerd." Most of Carney's tweets have since been deleted.
A few hours later, White issued a response to Carney's tweets. "Nobody tried to fight you, Patrick," White told Entertainment Weekly. "Nobody touched you or 'bullied' you. You were asked a question you couldn't answer so you walked away. So quit whining to the internet and speak face to face like a human being. End of story."
White previously called out the Black Keys in a private email to his ex-wife Karen Elson, which TMZ made public after it was submitted as part of the couple's divorce. The email revealed White took issue with the possibility of their children going to the same school as the Black Keys' Dan Auerbach's daughter.
"That's a possible 12 f---ing years I'm going to have to be sitting in kids chairs next to that asshole," White wrote. "He gets yet another free reign to follow me around and copy me."
In response, the Black Keys said they were surprised and mostly disappointed in TMZ for leaking the email in the first place. In White's subsequent apology, the former White Stripes leader wrote, "I wish the band the Black Keys all the success that they can get."
Apparently everything got patched up, though. Carney tweeted today: