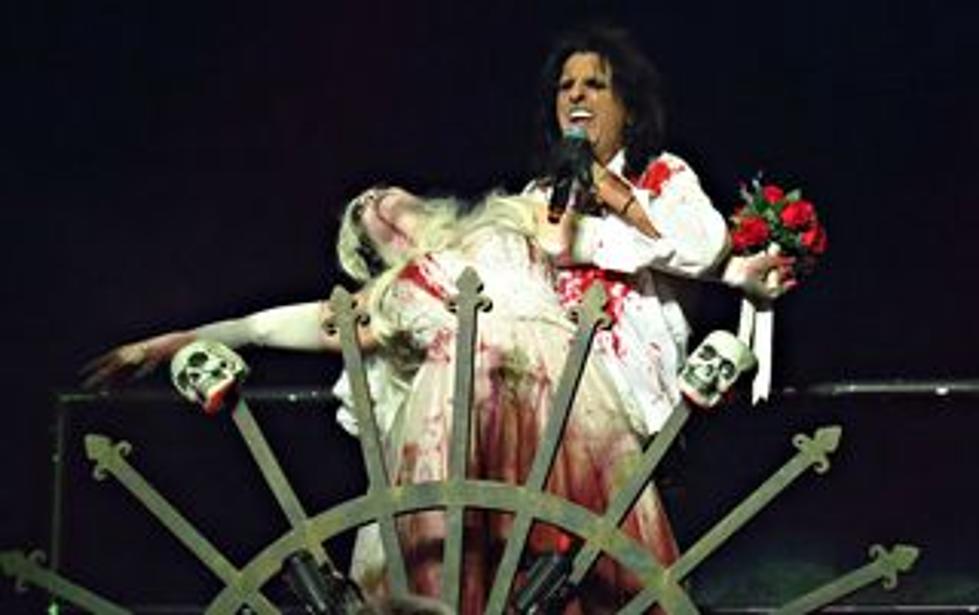 Thank You, Sir. May I Have Another.
Photo by Mark Detl
My ears are still ringing, and if I close my eyes I can see the band still stomping across the stage.  Alice Cooper has not loosened his grip on the throne of Rock and Roll one bit.  And why should he?  He built it himself, and at the Adler Theatre in Davenport Wednesday he invited us in to take a look.
Ever the ringmaster, Cooper simply gestured and his band responded.  Also, the sarcastic jester, villain, madman, and most menacing man to front a band.  For nearly 2 hours, he kicked and whipped and stabbed his way into our hearts, while the tightest band on planet earth chose the less subtle option of Detroit muscle right to the face.
This fully functioning dysfunctional band of misfits came for show, and the three-guitar attack seldom let me catch my breath. Captain Ryan Roxie draws the fun out of the trio, expertly shredding, and then disappearing into the shadows to let the new kids shine. Tommy Henriksen literally pounds the music from his guitar, and then delicately taps out a solo, or duel lead.  Nita Strauss has stage presence for days, and the last time I saw a solo this masterful, Eddie Van Halen was feeding his Frankenstein on stage in Moline.
I sometimes didn't know where to look, the guitarists were so spectacular, and sounded so good together.  But then, you remember why you came.  There's Alice freakin' Cooper holding court.  Expertly choreographed, sinister and psychotic, he brings it.  His searing vocals on songs that are almost older than I am prove to me that we are all of us lucky just to be in his world.  There was more theatre on that stage tonight at the Adler than I've seen in a season of shows.  The set, lights, extra characters and stories playing out before me were just the icing on a bombastic rock show cake.
Oh, did I mention bombast?  Bassist Chuck Garric happily thunders along with equally accomplished drummer Glen Sobel, providing the backbeat to this unfolding horror story.  And just when you're saying to yourself, "This has been a great show," here comes Sobel introducing you to every drum, pedal and piece of his kit.  I've always been the guy who grabs a beer during the drum solo, but maybe that's because the Tommy Lees and Neil Pearts of the world didn't hold my interest that way Glen Sobel did.  I can only describe it as a "This one goes to 11" kinda solo.  Precision, wild abandon in equal measure. And then, to remind us all of who the zen master is, lethal but doesn't need to show it Chuck Garric steps into the spotlight with this shit-eating grin, because he knows what's about to happen.  He knows that even though you lived through the pounding Sobel solo, the technical flurry of the 3 amigos guitar section, and the macabre storytelling of Shakespeare's crazy brother for that last hour and a half, Garric is about to lay some truth on you right here and now.  Funky, fuzzy truth like Flea and John Entwistle had a baby, and you're witnessing the birth right here.
I've seen a lot of bands since Covid lifted the curtain, but none have proven themselves so good, so earnest, so excited to play, and appreciative of the folks they're playing for, than this great group of pros that make up Alice Cooper.  It is the show of the year.
ROCK'S 40 BEST 10TH ALBUMS