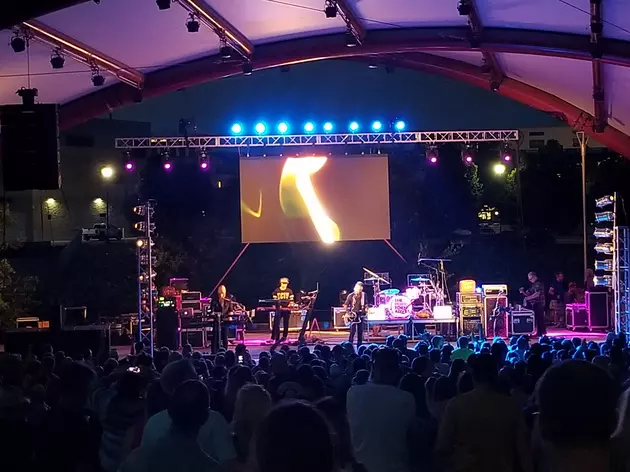 The Pork Tornadoes Set Uptown Friday Nights Record [PHOTOS]
Nicole Schroeder
Can you say FUN? 4,658 people did at the McGrath Amphitheatre on Friday night.
Well Strung opened the evening in spectacular fashion.
The Pork Tornadoes packed the house and proved why they are one of Iowa's and the midwest's best rising party bands.
Modern-day hits and '80s and '90s classics ruled the setlist and a record-setting crowd could be seen dancing and singing along, enjoying the fun and friendship all night long.
The Uptown Friday Nights concert series is in its 30th season, and the most recent show was not only Uptown's most successful event, but also said to be the biggest in McGrath Amphitheatre's nearly 5-year history. Considering national acts like Chicago, "Weird Al" Yankovic and Boyz II Men have all performed there, that's saying a lot.
The beer and food tents were long and busy all night, and the Jaycees were working tirelessly to accommodate everyone. Please remember that the Cedar Rapids Jaycees are made up of volunteers. They sacrifice tons of their time to provide the highest quality entertainment and refreshments possible to Cedar Rapids for an insanely low cost, as do the local vendors. We couldn't be happier to continue to work with and support them, and we ask you to do the same. Nicole Schroeder of the Cedar Rapids Jaycees estimates that last week's guest pourers and sponsors  from University of Iowa Community Credit Union were a volunteer group of roughly 50 people.
Incidentally, we also want to thank Nicole and Heather from the Iowa National Guard for setting up shop alongside us at our Townsquare booth.
We hope you had as good a time as we did, and will see you at the next Uptown Friday Nights, June 29 with the Large Midgets!