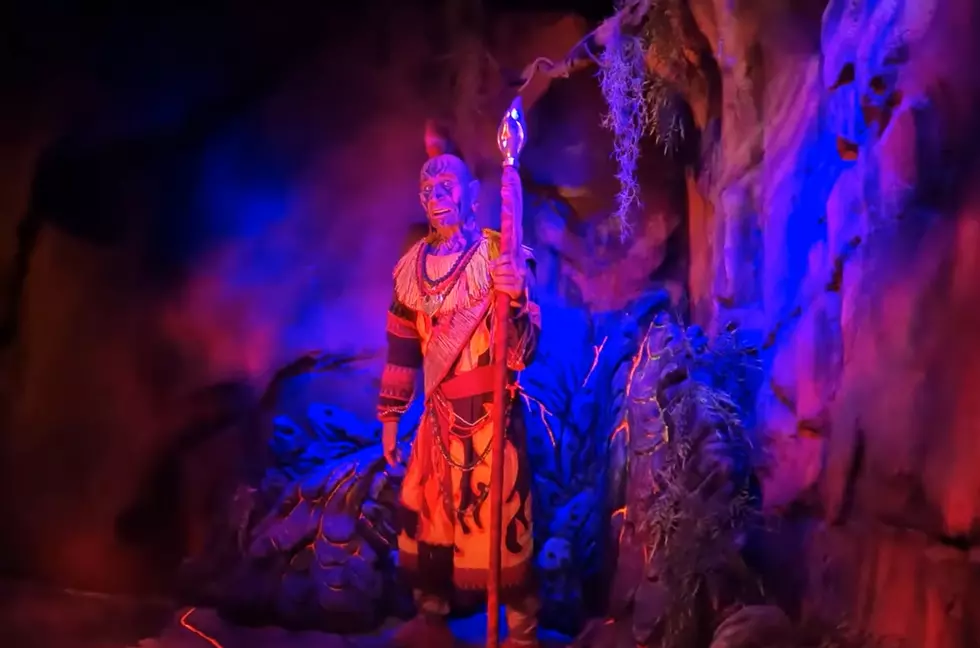 New Iowa Amusement Park Preparing to Welcome You Later This Spring [VIDEO]
Iowa Theme Park Enthusiasts, YouTube
The countdown to opening day for Iowa's new theme park has officially reached a fevered pitch.

Lost Island Themepark in Waterloo is now just weeks away from welcoming its first customers and as they get closer and closer, things are changing very rapidly. Over the weekend, Lost Island announced that more than 30,000 live plants for the theme park had arrived and were ready for planting. When you're ready for landscaping, that's definitely a good sign.
The video below is from earlier this month. It includes a look inside what's sure to be one of the amusement park's most popular rides: 'Volkanu: Quest for the Golden Idol.' While just a photo above, you can see the character from Volkanu in action in this video. It's incredible how real he looks:
Earlier this month, Lost Island revealed what you'll see when you enter the park. You talk about the perfect placement of the sign in relation to the Ferris wheel, or vice versa.
Last week, I told you that the 180-acre Adventureland Park in Altoona is changing its pricing for this season, with ticket buyers benefitting by purchasing tickets ahead of time, for a given day. Though 2022 will be the first year for Lost Island Themepark, they're doing the same thing.
Currently, the 90-acre Lost Island Themepark in Waterloo is planning a June 10 opening. However, they told me today that "there could be a soft opening sooner dependent on park progress and weather." Updates will be posted on their Facebook page.
The Lost Island website indicates the theme park will be open daily through August 21, and Friday through Sunday throughout September. Hours are 10 am to 6 pm Sunday through Thursday and Friday and Saturdays from 10 am to 10 pm.
You can purchase tickets in advance for dates beginning Friday, June 10. Advance tickets for Friday, Saturday, and Sunday dates in June are $47. Advance prices for weekend dates remain within a couple of dollars of that amount throughout the summer. Tickets for Monday through Thursday are $45 in June and two dollars more in July and August. According to the website, tickets will be $52 at the gate for those 4-years-old and older, with kids 3 and under free. Military and senior tickets are $47 at the gate. If you're interested in hitting both Lost Island Themepark and Lost Island Waterpark on the same day, you can do that. A park hopper pass is $55 at the gate.
The park map for Lost Island Themepark is below.
Adventureland is scheduled to open on May 14. Advance tickets are $39.99 for the first two weekends and then increase to $44.99 for Memorial Day weekend. From there, they vary from $39.99 to $59.99 for both weekdays and weekends. Adventureland will also be open daily through August 21. Unlike Lost Island, Adventureland's website indicates it will be open only on Saturdays and Sundays in September, except for Labor Day on Monday, September 5.
Photos That Show the Beauty of Iowa
12 Awesome Midwest Treehouses You Can Rent This Summer
If you're looking for a fun Midwest getaway this summer, consider staying in a treehouse! Here are some of the coolest treehouses you can book on Airbnb!