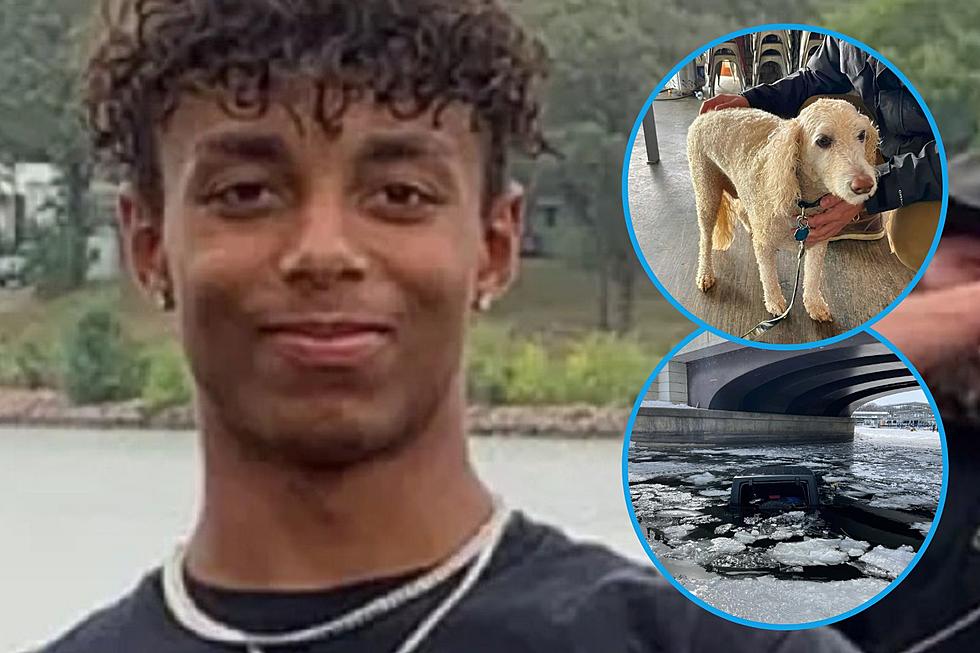 Iowa Teen Hero Recovering After Being Shot in Head While Hunting
GoFundMe/Dickinson County Sheriff's Office, Canva
Early in 2023, a western Iowa teenager was in the news for being a hero. Unfortunately, eight months later, he's in the news for a very different reason.
Back in February, then 17-year-old Joe Salmon of Spirit Lake sprung into action when 83-year-old Thomas Lee and his 6-year-old dog Cooper went through the ice on East Okoboji Lake.
Salmon was ice fishing with his mom when he saw the Jeep fall through the ice. As you can see in the video below, he broke the back window out of the Jeep and, with the help of four others, rescued both Lee and Cooper.
Here's Cooper as he dried out.
On Saturday, October 23, the Des Moines Register says Salmon was hunting for waterfowl in Dickinson County's Spring Run Wildlife Area when he was shot in the back of the head.
Salmon, now 18, was shot around 8:15 a.m. last Saturday morning. According to the Iowa Department of Natural Resources, he was airlifted to a hospital in Sioux Falls, South Dakota after the incident.
A GoFundMe created to help with Salmon's medical expenses not covered by insurance indicates a surgeon was unable to remove two bb's from a shotgun shell because they were too deep. Salmon was placed in a medically induced coma.
Earlier today, for the second consecutive day, medical staff attempted to remove Salmon from a ventilator. While unsuccessful on Tuesday, an update on the GoFundMe page from this morning indicates he is now breathing on his own.
The GoFundMe page has received nearly $35,000 in donations as of this writing, with a goal of $50,000.
LOOK: Baby boomer baby names that have gone out of style
Using info from the Social Security Administration's baby name database,
Stacker
compiled a list of baby boomer baby names that have declined in popularity.
Gallery Credit: Elizabeth Jackson
States with the most registered hunters
Stacker
analyzed data from the U.S. Fish and Wildlife Service to determine which states have the most registered hunters. Read on to see how your state ranks on Stacker's list.
Gallery Credit: Meagan Drillinger