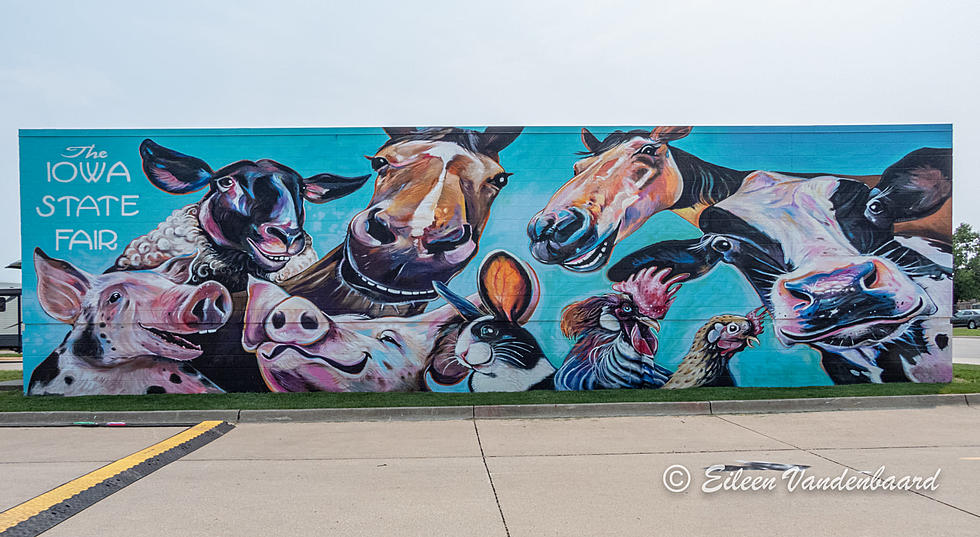 New Iowa State Fair Murals Showcase Animals, Food, and Fun [PICS]
Eileen Vandenbaard
It's Iowa State Fair week and the new murals are ready to be shown off.
When you head into the Iowa State Fair this year, you'll be greeted by some happy animals and other beautiful works of art. According to KCCI, Des Moines artist Jimmy Navarro has just finished four new fair murals. They can be seen on a cinderblock building near the entrance located on the southwest side of the fairgrounds.
I try to get as much of the fair — a showcase of every little thing from someone that's camping to the slide's 50th year to the foods and fireworks — all the things that I enjoy, so I try to put those in there," Navarro told KCCI.
My personal favorite is the one that has all of the different animal faces. They look like they are all leaning in for a selfie. Speaking of selfies, these murals will be a great spot for you to take a selfie, as they make for the perfect backdrop. You can see Navarro's murals and other fair murals for yourself in the post from photographer Eileen Vandenbaard's Facebook below:
Iowa State Fair Murals 2021
The report states that Navarro began painting the murals in July and sometimes would put in more than 12-hour days to get it to completion for the fair. You can see a video of him hard at work below:
Those long days seemed to have paid off because these are awesome! Can't wait to see these beauties in person...and get a selfie with the cute, smiling animals of course.
Weird Things You'll See in Iowa
Free or Cheap Iowa Road Trip Destinations
Want to have some summer staycation fun... on a budget? It's easy to do in Iowa!