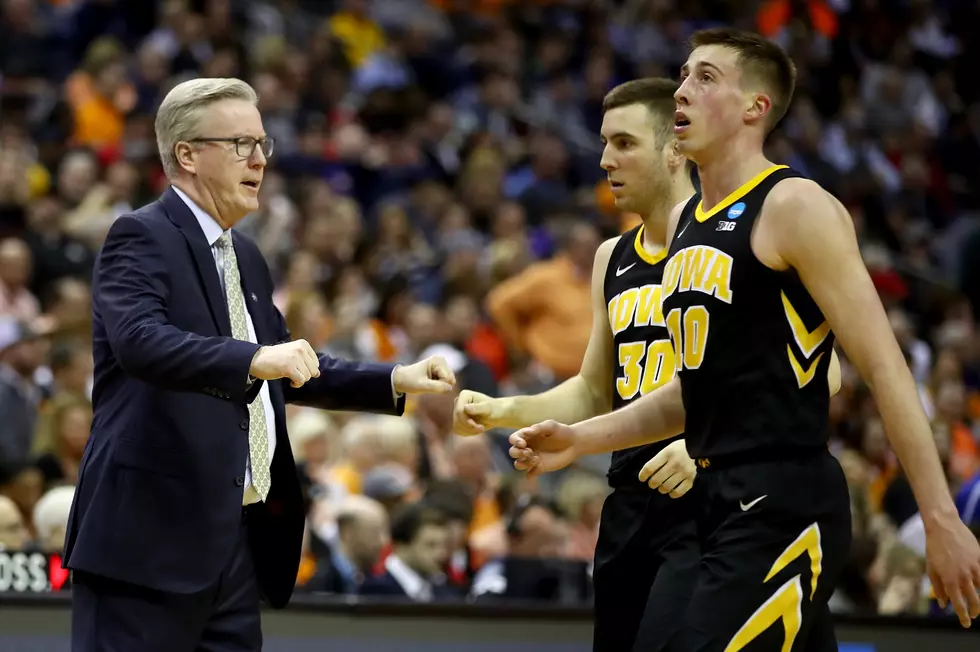 Iowa Men's Basketball Team Has Second-Best Odds to Win National Title
Getty Images
When Luka Garza announced on Sunday that he was returning to Iowa for his senior season, fans rejoiced. Of course, we did. It's not very often the Big Ten Player of the Year comes back to college the next season. Especially when that player was named Player of the Year by six different sports organizations, was a consensus first-team All-American and set the all-time single-season scoring record at his college (740 points). Those types of players don't come back. But Luka Garza did.
Garza's announcement last Sunday immediately put Iowa into the mix for the Big Ten title and perhaps even the national title. According to Forbes, Iowa currently has the second-highest odds to win it all. Here's the top five:
Villanova 7/1
Iowa 15/2
Baylor 8/1
Gonzaga 9/1
Virginia 10/1
Yes, Luka Garza returning is the biggest factor in the 15/2 odds for Iowa but there's a lot of other weapons who are becoming, just as importantly, healthy.
Jordan Bohannon: The Linn-Mar prep who's been battling hip injuries for two years now has had surgeries on both and is ready to go for his redshirt senior season. The all-time leading in three-point goals in Iowa history, the Hawks are a better team when he's in the mix.
C.J. Frederick: The sharpshooter who was hobbled by a foot injury for an extended portion of last season still did something no player in a major conference has done since 1993: He had more than 65 assists, turned the ball over 32 or fewer times, and shot at least 46 percent from behind the 3-point arc. Oh, and he did it all during his freshman season.
Connor McCaffery: Consistent. Doesn't make mistakes. That's all you need to say about Connor who, as a sophomore, was a key part of Iowa's 20-11 season. He started every game and led the NCAA in assist to turnover ratio. What he did is almost unheard of... 124 assists and only 27 turnovers
Joe Wieskamp: Now a junior, Wieskamp considered the NBA after his freshman season. Last year he started every game and was second on the team in scoring, behind Garza. He led the Big Ten in free throw shooting at 86 percent and ended the season with 22 consecutive makes.
Joe Toussaint: His game grew so much during his freshman campaign. Toussaint started the last 20 games and is a point guard that can create for his teammates. That's something Iowa has needed for a long time.
Two more players sure to be in the mix are Jack Nunge, who's returning from a knee injury, and Patrick McCaffery, who continues to recover from a cancer battle while in high school. Nunge started 14 games as a freshman two years ago. McCaffery, who's had trouble gaining weight, exhibited outstanding ability during his career at Iowa City West.
Iowa also has five incoming freshmen, including three that are at least 6'8. Keegan and Kris Murray, twin sons of former Hawkeye Kenyon Murray, are both 6'8 while Josh Oglunde is 6'11. Oglunde has been under COVID-19 quarantine in London, England for a long time but is now on his way to Iowa City.
Yes, the 2020-21 season could be a special one. First things first. Let's get it started and see if we can see it all the way through. Neither will be easy.
Iowans Show Off Their Hawkeye Spirit