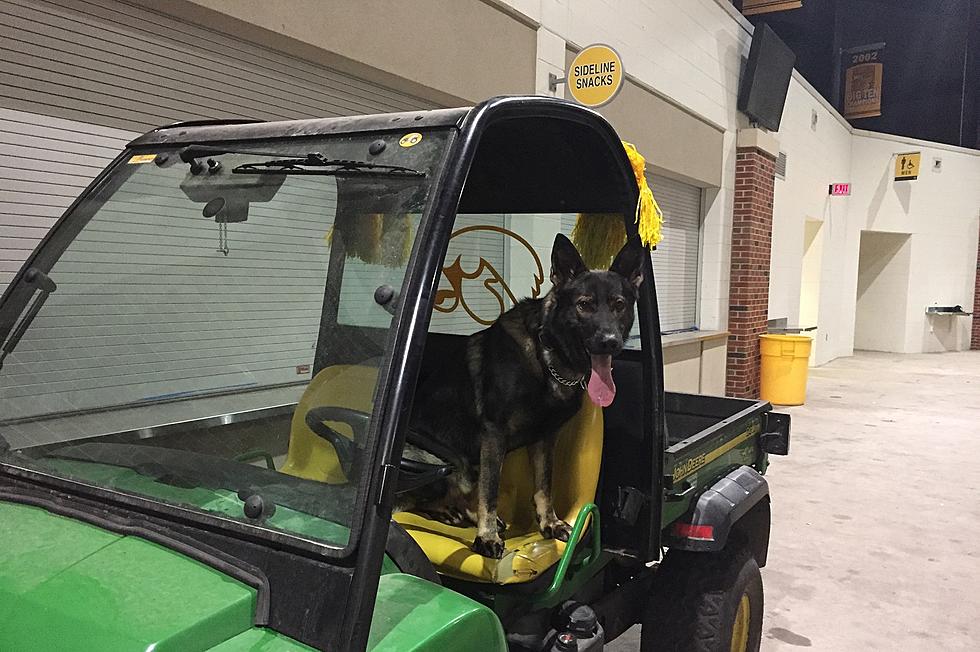 Career of Amazing University of Iowa Police K9 Ends This Saturday [PHOTOS]
Justin Torner - Staff Photographer - The University of Iowa
The final work assignment for a longtime University of Iowa K9 and his handler Officer is this weekend. K9 Jago has quite a history, and not just at the University.
Monday, November 13, Jago celebrated his 10th birthday and after Saturday's Iowa-Illinois football game in Iowa City, he'll begin to enjoy retirement. We're happy to report Jago is healthy. The retirement is due to his age.
Jago went to work for the police department at the University of Iowa in January 2014 and is the longest-serving K9 at the U of I. The dual-purpose K9 that specializes in explosive detection and patrol (tracing, apprehension, handler protection, and evidence recovery) has had an amazing career, along with his handler Officer Jess Bernhard (below).
The University of Iowa Police Department says Jago has been part of "countless criminal investigations by locating numerous firearms, spent shell casings, fleeing suspects, and missing or endangered people."
Sure Jago has been part of too many University of Iowa events to count, but his work has gone well beyond Iowa City. Jago has been included in security for two U.S. presidents during their administrations, three vice presidents, four governors, and has been deployed by the Secret Service a total of 17 times for seven different U.S. presidential candidates. Additionally, he's provided security for the Major League Baseball games held at the Field of Dreams in Dyersville.
Officer Bernhard says "Jago is selfless, and he gives 100 percent every single day. Everybody loves him and he has brought a smile to every single person he has met... I have gotten to see things and go places I never normally would as a police officer, meeting a lot of great people along the way. I am hearing lots of great stories from people about how much Jago has impacted their lives."
Thank you to Officer Bernhard (who is not retiring), and to Jago, who will enjoy his retirement with the Bernhard family.
A new K9 is expected to join the University of Iowa Police Department soon. The current K9's and their handler Officers are Jerrad Mohling and K9 Judge and Nate Monter and K9 Hogan (below).
LOOK: Longest-living dog breeds
Gallery Credit: Sophia June
WOOF: These are the most popular dog breeds in America
Gallery Credit: Sabienna Bowman
RANKED: Here Are the 63 Smartest Dog Breeds
Does your loyal pup's breed make the list? Read on to see if you'll be bragging to the neighbors about your dog's intellectual prowess the next time you take your fur baby out for a walk. Don't worry: Even if your dog's breed doesn't land on the list, that doesn't mean he's not a good boy--some traits simply can't be measured.
Gallery Credit: Sabienna Bowman