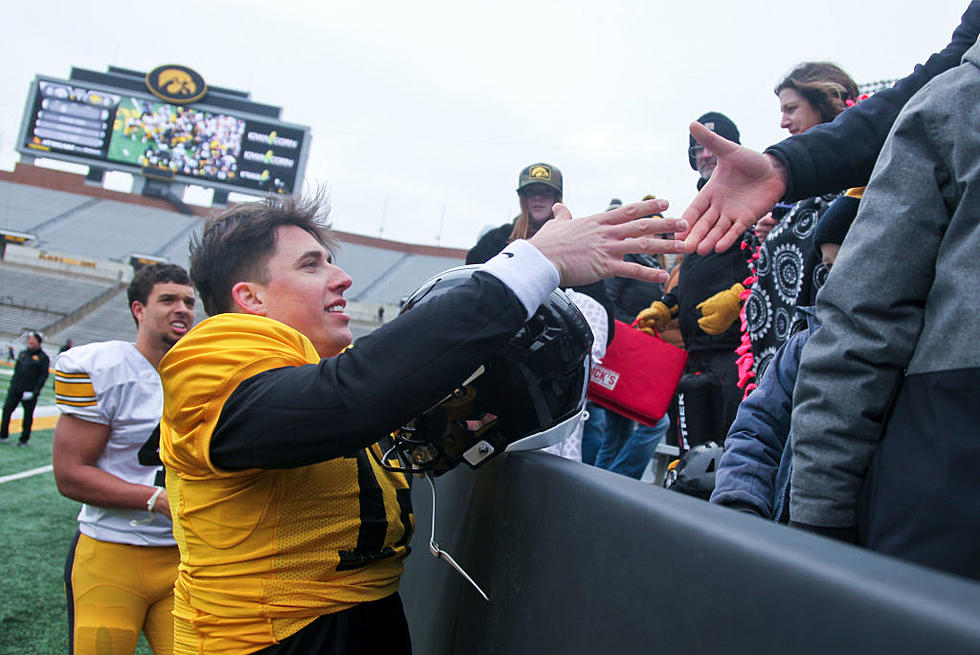 Iowa Hawkeye Football: Will Cade McNamara Be Available For Week 1?
Getty Images
The Iowa Hawkeyes 2023-2024 season will officially be underway on September 2nd. At the time of writing, there are only 8 days away before college football is back in the state of Iowa. I'm not one to wish summer would pass faster but as we inch closer to September, I'm ready for football. Bring on fall colors, college football, and flannels.
Quarterback, Cade McNamara, brought the Michigan Wolverines to the Big 10 title and a college football playoff birth in 2021. Cade was injured for the season in 2022 and has since transferred to the University of Iowa.
The struggles that plagued the Iowa Hawkeyes offense have been pretty well documented going back to last season. Things were so bad on the offensive side of the ball that there are now stipulations in offensive coordinator Brian Ferentz's contract for this upcoming season. The Hawkeyes must average 25 points per game in 2023-2024, or his contract will expire.
For an offensive coordinator who must average 25 points per game, having your new shiny starting QB injured and not practicing for the past 2 weeks isn't exactly ideal. Cade McNamara hasn't been available for practice since August 12th, when he left the field with a non-contact injury, according to Hawkeyes Wire.
Head coach Kirk Ferentz is hopeful that McNamara will be available for the Hawkeyes season opener against Utah on September 2nd. Coach Ferentz told Hawkeyes Wire
We'll know more at the end of the week, but I'm really optimistic and we'll see. Basically, it's been a recovery process and they have a procedure for it, so hopefully at the end of the week, he can start doing some things. I think everything looks like it's on schedule, so that's encouraging.
Is it just me or does this sound like "head football coach speak 101?" It sounds like he has no clue when he'll be back. Ferentz has been optimistic for 2 weeks at this point. Ferentz also indicated that the injury was a muscle issue and not a structural one, according to Hawkeyes Wire.
As of right now, it appears as if the Hawkeyes players and coaching staff aren't sure if McNamara will be available for the season opener. With McNamara at the helm, Iowa should be pretty competitive in the Big 10. If this injury lingers or is something McNamara deals with for a majority of the season...25 points per game might start to feel like 100 for Hawkeyes fans and offensive coordinator Brian Ferentz.
Iowa Born Sports Stars
What do each of these stellar athletes have in common? They all hail from the Hawkeye State.
10 Banned License Plates In Iowa That Made Me LOL
Iowa residents have submitted some really random (and now rejected) ideas for personalized license plates.