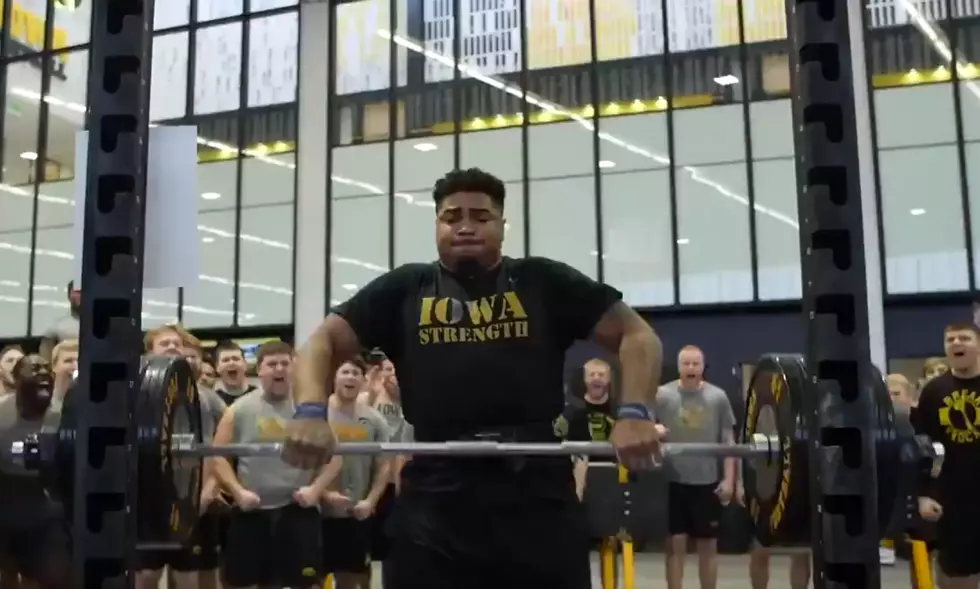 Iowa Football Player Sets INCREDIBLE Weightlifting Record [WATCH]
Twitter @HawkeyeFootball
Tristan Wirfs of Mt. Vernon, Iowa is a MAN. The junior-to-be on the Iowa football team became the first true freshman to EVER start a game at offensive tackle under coach Kirk Ferentz. During his sophomore campaign in 2018, he was named honorable mention All-Big Ten by the media and coaches. Although he's already done some incredible things in his career, Wirfs keeps working.
In the Iowa football complex weight room Tuesday, Wirfs set an Iowa football weightlifting record on what they call the 'hang clean.' He successfully lifted 450 pounds, four times.
According to 247Sports, the previous hang clean record by a member of the Iowa football team was 443 pounds by another Iowa native, Brandon Scherff. In 2014, Scherff was able to hang clean 443 pounds, three times. Scherff was the fifth overall pick in the 2015 NFL draft by the Washington Redskins. He has started 54 games in the league since.
Now for the video of Wirfs. I LOVE the enthusiasm of his teammates:
Do you doubt for a minute he's in for a special junior season and a great future in the National Football League? I don't.