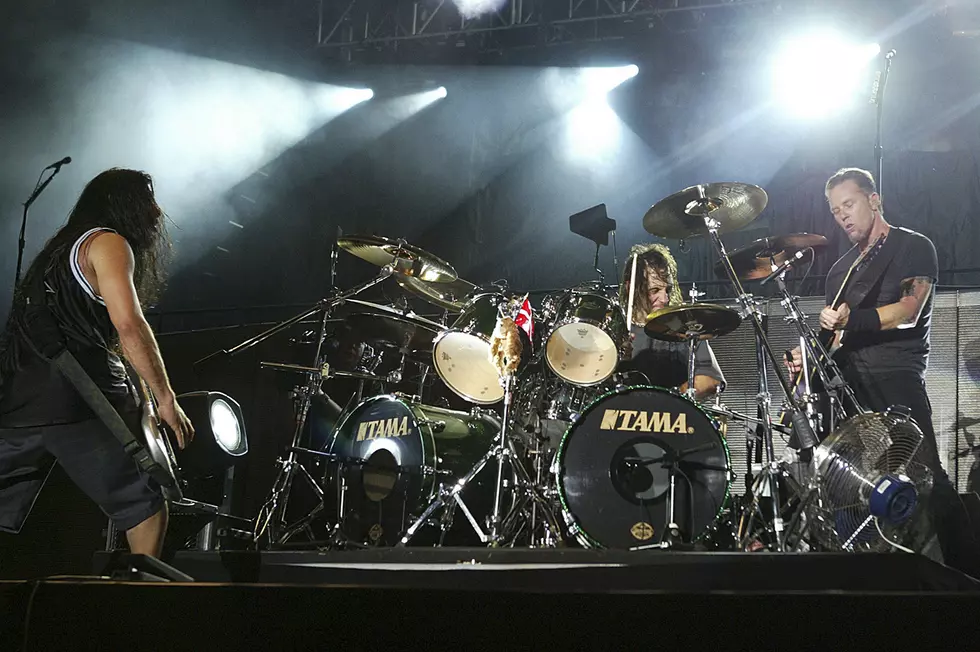 Dave Lombardo Recalls 'Excitement' of Last-Minute Metallica SOS
Jo Hale, Getty Images
Former Slayer drummer Dave Lombardo recalled the "excitement" of being asked to stand in for Metallica's Lars Ulrich at the U.K.'s Download Festival in 2004.
Slayer had already delivered their performance at the event when Lombardo was told that Ulrich couldn't appear after falling ill on the flight to Britain. He agreed to help out, with Slipknot's Joey Jordison and Ulrich's tech Flemming Larsen taking part, too.
"It was a bit of a shock," Lombardo told Classic Rock in a recent interview. "My first thought was, 'Is Lars OK?' But they said, 'He's OK, he's at the doctor's, he's just having a bit of a moment.' So I said I'd do whatever I could to help."
He found himself in a rehearsal room with James Hetfield, Kirk Hammett and Robert Trujillo. "I knew a few of their songs well enough to play them, but I just didn't know all the detail of some of the other songs," he explained. "So we agreed that I'd do the first two, 'Battery' and 'The Four Horsemen,' then Joey would jump in, 'cos he'd been in a Metallica covers band and he knew all those songs inside out."
Watch Metallica's 2004 Show Without Lars Ulrich
Asked what was going through his mind five minutes before going onstage, he replied: "Excitement. I love challenges: 'All right, let's do it, we'll work it out and make it happen.' I was thrilled to be up there with those guys, but it was surreal seeing James and Kirk and Rob in front of me. Like, 'Is this really happening?' But I couldn't question the moment, 'cos there was something more important at stake, which was to help Lars and the band deliver these songs, and deliver a show for the fans."
Lombardo agreed that the experience changed his perspective of Metallica's work. "Especially with the live show," he said. "They were headlining, so the energy there was just intense. I definitely had to retain my composure and think, 'This is going to be great, stay positive, let's rock.' After it was all done, we all took a bow at the very end. They were really grateful – they appreciated the help.
"For them to even ask me was an honor, and I'm very proud to have helped them out when they needed it, and just been a small part of their history. Come on, I got to play with Metallica!"
Metallica Albums Ranked
There are moments of indecision when compiling this gallery of Metallica Albums, Ranked Worst to Best. After all, we really could have had – for the first time ever – a three-way tie for first.