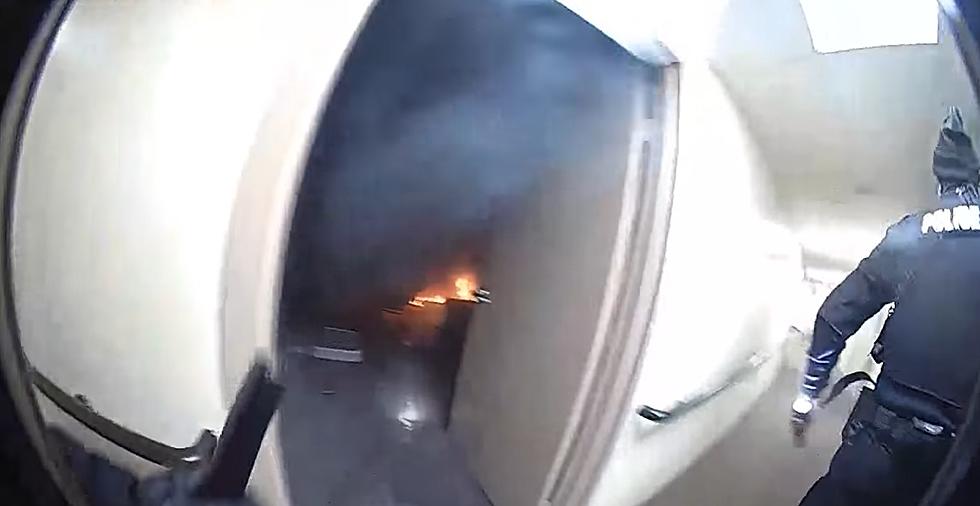 Cedar Rapids Police and Fire Departments Release Video of Geneva Tower Fire [WATCH]
Cedar Rapids Fire Department
Cedar Rapids firefighters, police officers, and deputies from the Linn County Sheriff's Office put their lives on the line and saved everyone inside the largest-ever high-rise fire in Cedar Rapids.

Early in the morning of Sunday, February 20, 2022, a fire was reported at Geneva Tower in downtown Cedar Rapids. The 12-story "income-based (HUD) housing property for seniors aged 62 and older and adults with disabilities" had caught fire on the 9th floor. The fire would quickly spread to the top three floors of the building after smoking materials were left unattended too close to combustible materials in a 9th floor room.
While Cedar Rapids Firefighters were battling the blaze both inside and outside the building, the Cedar Rapids Police Department and Linn County deputies were assisting in getting all the residents out of the building.
The video below begins with 911 calls from residents of the building to the city's Joint Communications Agency. It quickly switches to acts of heroism. From checking rooms for people inside, to extinguishing fires they encounter along the way, law enforcement works quickly and efficiently.
Firefighters appear in the video as well, battling the blaze inside the building with the help of their counterparts outside.
If all of that isn't enough, we see law enforcement officials carrying disabled residents of the building down the stairs to safety. No one died in the fire that was heroically battled for approximately three hours in temperatures that reached 19 degrees in Cedar Rapids.
This is a rare look at what sometimes goes into serving and protecting us every day. It's also a perfect opportunity for us to say thank you. Something we don't do nearly often enough.
Geneva Tower Fire in Downtown Cedar Rapids
Geneva Tower, at the corner of 3rd Street and 5th Avenue SE, sustained damage during an overnight fire the morning of Sunday, February 20, 2022. The fire resulted in the complete evacuation of the 13-story apartment building. There is no timetable for when residents may be able to return.
Eastern Iowa Restaurants That Opened/Reopened/Relocated in 2021
LOTS of new restaurants opened here in Eastern Iowa in 2021! Here are a list of them, plus restaurants that reopened or relocated.