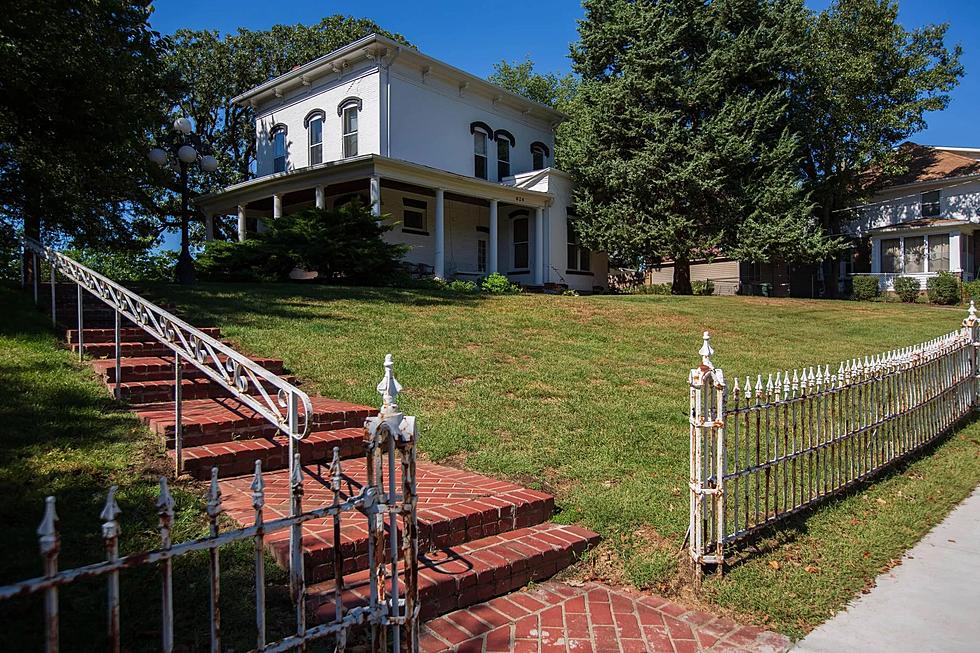 One Dollar Could Get You Historic Iowa Home On National Register [PHOTOS]
NextHome in the Bluffs
This home, located in an Iowa neighborhood listed on the National Register of Historic Places, is looking for a new owner who will help repair and restore it.
Part of the Lincoln/Fairview District, the home at 624 Oakland Avenue is the one circled on the right side of the 1875 illustration of Council Bluffs below. While listed as having been built in 1875, the National Register application says the home was erected in 1868.
Known as the C.R. Scott House, it was built by Cunningham R. Scott, a noted attorney. The home was built from brick made at the N. 8th St. Brickyard in Council Bluffs. According to the National Register application, Cunningham Scott, "his wife (Almyra (or Elmyra) and children: Laura, Edgar, and Kate" lived in the home during the 1880 census. It is not known how long the Scott family lived in the house.
In the 2007 application for the National Register of Historic Places, the home is described as an "Italianate, impressive two-story brick house among the earliest built along what is now Oakland Avenue. Probably architect-designed. Has low-pitched hip roof with bracketed eave overhang. Massive wrap-around porch has full-height round columns some of which have been recently replaced. The porch is an early 20th c. addition but is considered contributing to the building. Windows and doors have prominent hood molds. Front door has transom window. Windows are 1/1 double-hungs that are probably replacements. Brick has been painted white. Generally retains very good integrity."
The home is much larger than it appears at a glance. It's more than 3,400 finished square feet (4,565 in total) and has 4 bedrooms and 2 bathrooms.
Listing agent Justin Williams of NextHome in The Bluffs tells me the home was damaged by a water main break about a year ago. It suffered major foundation damage and settling, which will need to be repaired.
Hopefully, the one-dollar list price will result in someone restoring this part of western Iowa history. According to Williams, the home will be listed only through Friday, October 20. More photos of the home are below.
Take A Tour Of This Multi-Million Dollar Cedar Rapids Dream Home
This 10,000-square-foot home at 382 East Post Road SE in Cedar Rapids has seemingly everything. There are bedrooms, 5.2 baths, a 4+ car garage, and so much more. It's priced at $2.75 million. The listing agent is
Cathy Hill
of Skogman Realty.
Gallery Credit: Cathy Hill, Skogman Realty
Amazing Places to Stay During Your Fall/Winter Visit to Galena
Planning a weekend trip to Galena, Illinois this fall or winter? Check out some of these great Airbnbs that are available!
Gallery Credit: Courtlin