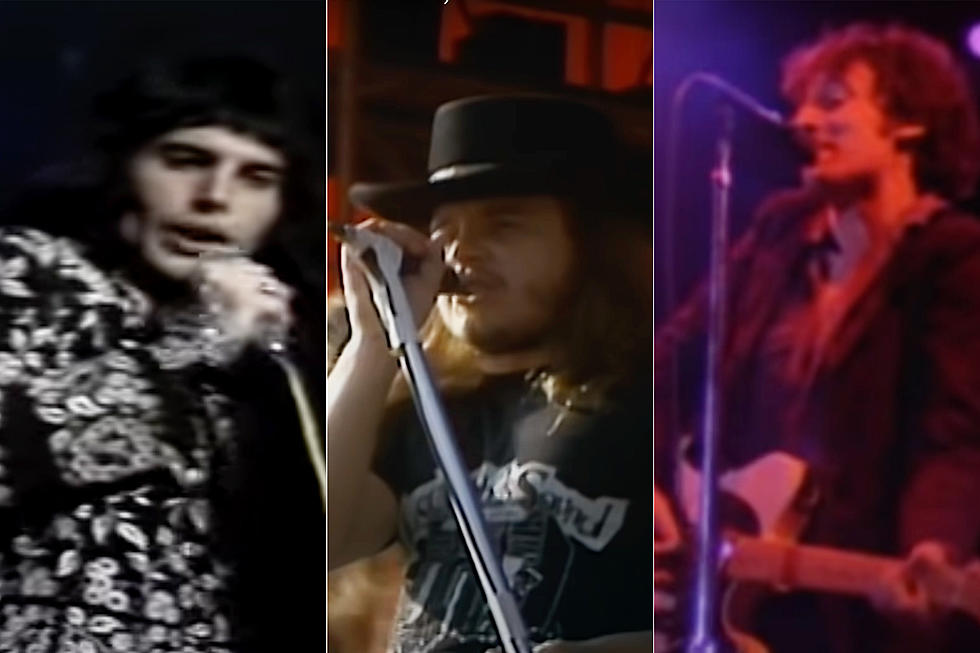 What Happened to Rock + Metal's Breakout Bands of 1973?
YouTube: Queen Official / YouTube: Lynyrd Skynyrd / YouTube: Bruce Springsteen
The year was 1973, we were all freaked out by The Exorcist, tuning in to catch The Battle of the Sexes tennis match and thumbing our way through "Jonathan Livingston Seagull." Donning our tie-dyed shirts and bell-bottom pants, music fans turned out en masse to catch Summer Jam and that was just the start of what turned out to be a great year for rock and metal music.
What was going on musically in 1973? There was a Southern Rock boom happening thanks to Lynyrd Skynyrd and The Marshall Tucker Band. A newcomer named Bruce Springsteen had critics buzzing and the music world was treated to the insane vocal ranges of Aerosmith's Steven Tyler and Queen's Freddie Mercury for the first time.
As you'll see, some bands were destined for Rock and Roll Hall of Fame careers. Others flashed and quickly faded away. Let's take it back to 1973 and revisit the year's breakout rock and metal bands.
Aerosmith
What Happened With Aerosmith in 1973?
After reportedly signing with Columbia in 1972 for $125,000, the Boston-based rockers Aerosmith recorded what would be their self-titled debut album for an early 1973 release. It was a slow-burning start for Aerosmith, as the power ballad "Dream On" peaked out at No. 59 on the Billboard Hot 100 chart. "Mama Kin" and "Walking the Dog" also got airplay, showing off their brand of blues-influenced rock.
Aerosmith, "Dream On"
What Happened With Aerosmith After?
Heavy touring eventually paid off for Aerosmith with their second album Get Your Wings picking up some momentum and Toys in the Attic seemingly solidifying their stance as one of the '70s great emerging rock bands. "Sweet Emotion" became their first Top 40 hit in 1975, with "Dream On" getting a second chance reissue that same year, this time climbing to No. 6 on the Hot 100.
Songs such as "Walk This Way," "Last Child," "Back in the Saddle" and a cover of the Beatles' "Come Together" closed out the '70s with the band on a hot streak, but things were starting to unravel internally. Joe Perry left the band in 1979, Brad Whitford exited in 1981. Steven Tyler's drug use became an issue in the group, and record and tour sales started to flag. But in 1984, Perry and Whitford started to negotiate for their return to the group.
Their second act got off to a modest start, with 1985's Done With Mirrors failing to produce a hit. But in 1986, Tyler and Perry agreed to collaborate with rising rap stars Run-D.M.C. on a remake of "Walk This Way" that broke down barriers between the rap and rock worlds and helped rejuvenate interest in Aerosmith's career in the process.
A new generation of fans got behind the group's 1987 album Permanent Vacation, which spawned the hit singles "Dude (Looks Like a Lady," "Angel" and "Rag Doll," and started a very prolific run of hits for the band. Through the Pump, Get a Grip and Nine Lives album cycles, the band stacked up massive singles such as "Love in an Elevator," "Janie's Got a Gun," "What It Takes," "The Other Side," "Livin' on the Edge," "Cryin'," "Amazing," "Crazy," "Falling in Love (Is Hard on the Knees)" and "Pink." And in 1998, they scored their first-ever chart-topper with the Armageddon soundtrack song, "I Don't Want to Miss a Thing."
The 2000s brought another big album, Just Push Play, bolstered by the single "Jaded," but they've tailed off with recordings ever since, issuing just two more albums and mostly touring off their impressive catalog. The group has sold more than 150 million albums worldwide, received four Grammy Awards, six American Music Awards, 10 MTV Video Music Awards and they were inducted into the Rock and Roll Hall of Fame in 2001.
Brownsville Station
What Happened With Brownsville Station in 1973?
Brownsville Station had already been rocking since releasing their first song in 1969 and first album a year later, but it wasn't until their third release that they saw any sort of breakthrough. The Michigan rockers released their Yeah! album in 1973 and saw the single "Let Your Yeah Be Yeah" climb as high as No. 57. But it was the second song from that album, "Smokin' in the Boys Room," that solidified their standing, climbing to No. 3 on the U.S. Hot 100.
Brownsville Station, "Smokin' in the Boys Room"
What Happened With Brownsville Station After?
The band's 1974 album School Punks generated modest hit singles with "I'm the Leader of the Gang" and "Kings of the Party," but Brownsville Station would never replicate the success of "Smokin' in the Boys Room." They released three more studio albums before disbanding in 1979.
Both Cub Koda and Bruce Nazarian from the band's '70s heyday have passed, Coda dying in 2000 and Nazarian in 2015. Guitarist Mike Lutz and drummer Henry Weck resurrected Brownsville Station in 2012, leading the current lineup through to present day. They released the 2012 album Still Smokin'.
Rick Derringer
What Happened With Rick Derringer in 1973?
Rick Derringer was already somewhat of a known entity, having played with The McCoys and working with blues guitar greats Johnny and Edgar Winter before deciding to venture out on his own in 1973. The guitarist's debut album was titled All American Boy, and while it featured several instrumentals, Derringer did score a big hit with "Rock and Roll, Hoochie Koo" in 1973.
Derringer had previously written the song with Johnny Winter recording it before deciding to take it on on his own. The Derringer version hit No. 24 on the Hot 100 in 1974. Meanwhile, Derringer's debut album climbed all the way to No. 25.
Rick Derringer, "Rock and Roll Hoochie Koo"
What Happened With Rick Derringer After?
Derringer continued to balance his solo work with a variety of collaborations as his career continued. He's recorded 14 solo studio albums, and three albums under the band moniker Derringer. There's also The Derringers, which served as a family band for the musician recording together in the 2000s.
Among his many collaborations over the years are work on albums from Todd Rundgren, Steely Dan, Richie Havens, Alice Cooper, Dan Hartman, KISS, Cyndi Lauper, Jon Anderson, Weird Al Yankovic and more.
John Fogerty
What Happened With John Fogerty in 1973?
Free from Creedence Clearwater Revival, John Fogerty dedicated his creative pursuits to finishing a country and western covers album. Though credited to John Fogerty and The Blue Ridge Rangers, with the album title being The Blue Ridge Rangers, it was truly a Fogerty solo set as he played all the instruments and produced the record.
His biggest success came with "Jambalaya (On the Bayou)," a Hank Williams cover, which hit No. 16. The follow-up, "Hearts of Stone," also cracked the Top 40 at No. 37.
John Fogerty, "Jambalaya (On the Bayou)"
What Happened With John Fogerty After?
Fogerty's early solo works were also plagued by issues with his label. He released a self-titled album in 1975 that spawned the single "Rockin' All Over the World," and his 1976 effort, Hoodoo, was ultimately scrapped by his label after the single "You Got the Magic" performed poorly.
He would not surface with another album until 1985, when Warner Bros. took co-ownership of his Asylum Records contract. Centerfield turned out to be a hit thanks to "Old Man Down the Road" and the title track, but more legal issues followed when Fantasy Records claimed that "Old Man Down the Road" shared the same chorus as "Run Through the Jungle." Fogerty won the case, being able to prove they were distinct compositions, and arguing that sounding like himself from CCR was not plagiarism. Fogerty also was sued by former Fantasy Records boss Saul Zaentz, who believed the songs "Vanz Kant Dance" and "Mr. Greed" were personal attacks on him. Despite all the issues, Centerfield would be his biggest solo success.
In total, Fogerty has issued 10 solo records. Of those records, Blue Moon Swamp won a Best Rock Album Grammy in 1997. Fogerty was inducted into the Songwriters Hall of Fame in 2005.
Lynyrd Skynyrd
What Happened With Lynyrd Skynyrd in 1973?
The earlier incarnation of what would become Lynyrd Skynyrd dates back to 1964, and after years of playing smaller venues, the band caught their big break when Blood, Sweat & Tears' Al Kooper caught a show and signed them to his Sounds of the South label.
By 1973, they issued their (Pronounced 'Lĕh-'nérd 'Skin-'nérd) album, featuring the song "Gimme Three Steps." "Tuesday's Gone," "Free Bird" and "Simple Man" would go on to become staples off the record as well, helping to forge the band as a major influence on '70s Southern Rock.
Lynyrd Skynyrd, "Gimme Three Steps"
What Happened With Lynyrd Skynyrd After?
Lynyrd Skynyrd continued on a hot streak that placed them atop of the rock world over the next several years. Second Helping, Nuthin' Fancy and Gimme Back My Bullets yielded such standouts as "Sweet Home Alabama," "Call Me the Breeze," "Saturday Night Special," "Gimme Back My Bullets" and "Double Trouble."
Things changed forever over the course of their Street Survivors album support. The record provided standout offerings in "What's Your Name" and "That Smell," but on Oct. 20, 1977, three days after their album was released, a charter plane the band was flying in en route to ran out of fuel, forcing an emergency landing in a forest just shy of a nearby airstrip. Ronnie Van Zant, Steve Gaines and Cassie Gaines were killed on impact, along with the pilot, co-pilot and the group's assistant road manager. Other members of the band and crew suffered serious injuries as well but lived.
After the tragedy, the group disbanded, but by 1987, Gary Rossington, Billy Powell, Leon Wilkeson and Artimus Pyle pulled in one time guitarist Ed King and Ronnie Van Zant's younger brother Johnny to tour. By 1991, the revived band decided to record a new album and they've released eight more albums since.
In 2023, guitarist Gary Rossington, the last remaining original member, died, but the remaining members of the group announced their intent to continue the band's legacy.
READ MORE: Top 70 Hard Rock + Metal Albums of the '70s
The Marshall Tucker Band
What Happened With The Marshall Tucker Band in 1973?
While Lynyrd Skynyrd were at the forefront of a Southern Rock boom in the early '70s, they weren't alone. South Carolina rockers The Marshall Tucker Band were also quite prominent throughout the decade, starting with their 1973 self-titled debut album which spawned the single "Can't You See" as well as the follow-up "Take the Highway."
The Marshall Tucker Band, "Can't You See"
What Happened With The Marshall Tucker Band After?
The band issued eight albums over a seven-year period to finish out the '70s, with 1975's Searchin' for a Rainbow having the biggest run, peaking at No. 15 on the Billboard 200 Album Chart. "Fire on the Mountain," "Heard It in a Love Song," "Dream Lover" and "Last of the Singing Cowboys" kept them a favorite on the airwaves throughout the decade.
The band suffered a major loss at the top of the '80s as bassist and co-founder Tommy Caldwell suffered major head trauma and died six days after a car wreck in 1980. They released five studio albums at the top of the decade, each to dwindling success, and in 1983, all the original members minus Doug Gray and Jerry Eubanks exited the band.
It would be five years before the two musicians, with a new lineup, continued the band's legacy with 1988's Still Holdin' On. The group has gone on to amass 22 studio albums, and Gray is currently the only original member still left in the band after Eubanks' retirement in 1996.
Queen
What Happened With Queen in 1973?
After adding bassist John Deacon in 1971, the Queen lineup was finalized and ready to work on their debut effort. The self-titled set was best known for generating the driving single "Keep Yourself Alive," though "Liar" and the closing instrumental "Seven Seas of Rhye" remain favorites in their catalog. The album peaked at No. 83.
Queen, "Keep Yourself Alive"
What Happened With Queen After?
While their sophomore set, Queen II, faltered a bit, the band righted the ship with 1974's Sheer Heart Attack, featuring melodic group vocals on "Killer Queen." It was their fourth album, A Night at the Opera, that would catapult them to new heights, thanks to the epic "Bohemian Rhapsody," the heartfelt "You're My Best Friend" and the ballad "Love of My Life."
A Day at the Races, News of the World and Jazz yielded a string of hit singles that included "Somebody to Love," "Tie Your Mother Down," "We Will Rock You," "We Are the Champions," "Bicycle Race," "Fat Bottomed Girls" and "Don't Stop Me Now."
The '80s started off strong with The Game, featuring "Crazy Little Thing Called Love," "Another One Bites the Dust" and "Play the Game." They recorded the soundtrack for the film Flash Gordon and kept the momentum going with "Under Pressure" and "Body Language" from Hot Space and "Radio Gaga" and "I Want to Break Free" from The Works.
Despite a dip in sales for their latest works, fans witnessed one of the all-time epic live performances with the band's 1985 set at Live Aid. They then continued to work through the '80s, maintaining their success in their native U.K. but tailing off a bit in the U.S. where "One Vision," "I Want It All" and "A Kind of Magic" proved to be their most successful singles over that period.
A fourteenth studio album, Innuendo, was released in January 1991, but word of Freddie Mercury's health issues began to circulate. In November 1991, Mercury confirmed in a statement that he had AIDS. Within 24 hours of the statement, the singer died at the age of 45.
The band issued the posthumous album Made In Heaven in 1995, marking their last studio album to feature Mercury.
In 2004, guitarist Brian May and drummer Roger Taylor reunited to celebrate the band's history with Bad Company singer Paul Rodgers handling vocals. John Deacon retired from the band rather than take part. The pairing with Rodgers continued through 2009.
In 2009, May and Taylor performed with Adam Lambert while he was a contestant on American Idol. Later in the year, Lambert was invited to front Queen for a performance at the MTV Europe Awards. By 2012, Queen started booking more shows with Lambert and he's remained their vocalist up to the present day.
Bruce Springsteen
What Happened With Bruce Springsteen in 1973?
After performing with a number of different bands in the early '70s, Bruce Springsteen formed a new group in the fall of 1972 to record his debut album, Greetings From Asbury Park, N.J. The record was an immediate critical favorite, though initial sales for the album were slow. It yielded the songs "Blinded by the Light" and "Spirit in the Night."
But Springsteen and his new band (not yet dubbed the E Street Band) were not done, following late in the year with The Wild, The Innocent & the E Street Shuffle, Like its predecessor, it too was a critical favorite though it struggled to find its sales footing. "4th of July, Asbury Park (Sandy)" and the rousing, epic "Rosalita (Come Out Tonight)" were the two singles.
Bruce Springsteen, "Rosalita (Come Out Tonight)"
What Happened With Bruce Springsteen After?
After the quick 1-2 punch of 1973 albums, word began to spread not only from critics, but also music fans catching Springsteen's energetic live shows. And by the time 1975's Born to Run arrived, the record buying public was ready to catch up. This time on top of the critical praise, Springsteen had a Top 10 album, one that featured the title track and "Tenth Avenue Freeze Out" as well as fan favorites "Thunder Road," "Backstreets" and "Jungleland."
Broadening his horizons, Springsteen's material started becoming more politically and socially conscious with Darkness on the Edge of Town, The River and Nebraska. But with the advent of MTV, Springsteen was about to have another huge spike in his career with 1984's Born in the U.S.A. that spawned seven Top 40 singles. That was about as commercial as Springsteen got over the course of his legendary career.
Remaining a critical favorite known for his impactful lyrics and iconic live performances, Springsteen has gone on to record 21 studio albums. His hit-making heyday carried over into the '90s, with such staples as "Born in the U.S.A.," "Glory Days," "Brilliant Disguise," "Human Touch," "Streets of Philadelphia" and "Secret Garden" making an impact.
He's sold more than 71 million albums in the U.S., won 20 Grammy Awards, has an Academy Award, was inducted into both the Songwriters Hall of Fame and Rock and Roll Hall of Fame in 1999 and was awarded the Presidential Medal of Freedom in 2016.
Stealers Wheel
What Happened With Stealers Wheel in 1973?
High school friends Gerry Rafferty and Joe Egan formed Stealers Wheel in Paisley, Scotland in 1972, making their biggest impact the following year with the single "Stuck In the Middle With You" off their self-titled debut album.
Interestingly enough, Rafferty exited the band before the record was released, but when the song became a hit (It peaked at No. 6 in the U.S.), the musician was persuaded to return.
A second album, 1973's Ferguslie Park, arrived later in the year, but this time it wasn't a success. It yielded the modestly charting singles "Everything Will Turn Out Fine" and "Star."
Stealers Wheel, "Stuck in the Middle With You"
What Happened With Stealers Wheel After?
Behind the scenes, tensions were growing between Egan and Rafferty. They recorded a third Stealers Wheel album, 1975's Right or Wrong, but disbanded before the record was released. "Right or Wrong" and "Found My Way to You" were released as singles, but neither charted at radio. There would be renewed interest in the band in the '90s when Quentin Tarantino used "Stuck in the Middle With You" in his film Reservoir Dogs.
Egan released his solo debut in 1979, yielding the minor hit "Back on the Road." Rafferty, meanwhile, enjoyed greater success starting with 1978's City to City album that yielded the singles "Baker Street" and "Right Down the Line." 1979's Night Owl provided two more hits with "Night Owl" and "Get It Right Next Time." Rafferty would go on to issue 11 studio albums. He passed away from liver failure in 2011.
Joe Walsh
What Happened With Joe Walsh in 1973?
Having left The James Gang, Joe Walsh started up a new band called Barnstorm who released their self-titled debut in 1972. Though a critical fave, the commercial sales were lacking. So when Barnstorm recorded their follow-up, The Smoker You Drink, The Player You Get, they released it under Walsh's name instead. This time they had a hit, with the 1973 album peaking at No. 6, bolstered by the success of Walsh's groovy slide guitar-heavy favorite, "Rocky Mountain Way."
Joe Walsh, "Rocky Mountain Way"
What Happened With Joe Walsh After?
In 1974, Joe Walsh decided to continue as a solo artist. While Barnstorm did not partake in his late 1974 solo album So What, they did continue to play live with him until 1975. That same year, Walsh was invited to join the Eagles after Bernie Leadon left the group. And throughout the remainder of the '70s he balanced his solo work with his time with the Eagles.
On the solo front, "Life's Been Good" off his 1978 album But Seriously, Folks …. was his biggest hit. Meanwhile, he was part of two massively successful albums with the Eagles — 1976's Hotel California and 1979's The Long Run. With the Eagles, he handled lead vocals on "Pretty Maids All in a Row" and "In the City."
The Eagles split in 1980, with Walsh returning to his solo career. Through the decade and into the '90s, he released such songs as "All Night Long" (from the Urban Cowboy soundtrack), "A Life of Illusion," "The Confessor" and "Ordinary Average Guy."
After the Eagles reunited in 1994, Walsh only issued one more studio album, 2012's Analog Man. But he did take lead vocals on two songs from the Eagles 2007 album Long Road Out of Eden.
As a member of the Eagles, he's won five Grammy Awards and was inducted into the Rock and Roll Hall of Fame in 1998.
Best New Rock / Metal Band of Every Year in the 1970s