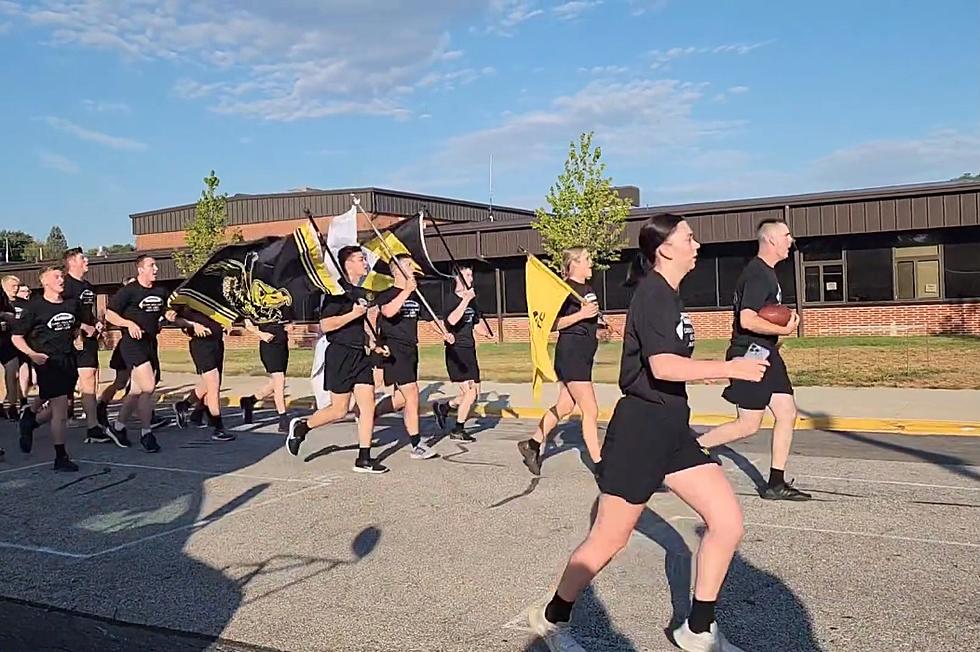 Tradition Continues as Game Ball Run Makes Way to Ames [VIDEO]
Trina Sue Haasis-Arp
While wearing an Iowa Hawkeye polo this morning, a young woman asked me if Iowa played this weekend. I was astounded. Yes, and so does Iowa State. They play each other in what many consider the game of the year.
As a huge sports fan, I was reminded again this morning that not everyone shares my passion for sports. This weekend, hundreds of thousands will be just as pumped for this game as I am. The one and only intrastate rivalry between the Hawkeyes and Cyclones is here again.
Each year since 1987, Army ROTC (Reserve Officers' Training Corps) cadets from the two universities carry the 'game ball' from one stadium to the other. This morning at approximately 7:30 a.m., Army ROTC cadets from the University of Iowa headed west from Kinnick Stadium.
The cadets, mascot, cheerleaders, and Iowa Army National Guard members take the ball across the state by van and by foot. They ran their way through the streets of Williamsburg this morning, with a police escort.
And made a stop at Williamsburg High School, with a "Let's beat state' chant.

and a "Let's Go Hawks" chant, as well.
According to North Iowa Today, the next stop was Marengo, followed by Belle Plaine. The ball was given over to Iowa State University ROTC cadets around noon. They'll take it the rest of the way to Jack Trice Stadium in Ames, where this year's game is being played. It's also worth noting this isn't the actual 'game ball'.
Saturday's Iowa-Iowa State game kicks off at 2:30 p.m. on Fox. The Hawkeyes are a four-point favorite on the road. The Cyclones won in Iowa City last year by a final score of 10-7.
Highlights of Iowa's 2023 Opening Victory Over Utah State
Iowa won the opener 24-14 on Saturday, September 2.
All the Corridor Restaurants That Have Opened in 2023 So Far
Here are some of the new places that you can check out near Cedar Rapids and Iowa City, as of August 31st!