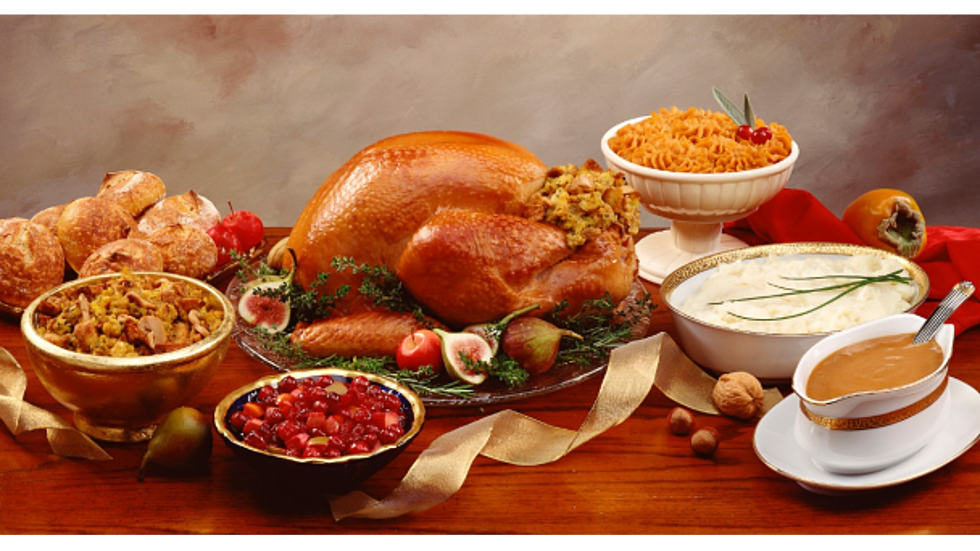 Restaurants Serving Thanksgiving Dinner in Eastern Iowa
Thinkstock
If you're lucky enough to get to spend Thanksgiving with your family, it's either an exciting prospect, or a stressful one, wondering how you're going to feed them all. If you'd rather not do the work yourself, we have tracked down several local restaurants  offering Thanksgiving dinner specials. All dates are for Thursday, November 23, Thanksgiving Day, unless otherwise noted.
The Class Act Restaurant, inside the Hotel at Kirkwood Center on the Kirkwood Community College campus at 7725 Kirkwood Blvd SW, Cedar Rapids, IA 52404 is once again offering its Thanksgiving dinner special. For a cost of $22 per person for adults and $12 for kids, the menu will offer:

Herb Brine Turkey Breast
Sourdough and Mushroom Stuffing Fritters
Pickled Butternut Squash
Pumpkin Flan
Fried Sage
Choice of soup or salad

Visit their Facebook page or contact them by phone at (319)848-8777

Granite City Food & Brewery

Granite City, located at 4755 1st Ave SE, Cedar Rapids, will be offering a "family style" Thanksgiving dinner with all the trimmings.

Welcome Course

: featuring Tossed Garden Salad with Balsamic dressing and holiday biscuits.
Main Course: includes turkey breast

and

a choice of either salmon and short ribs, along with mashed potatoes and gravy, stuffing, cranberry chutney, green bean casserole, macaroni and cheese, and balsamic glazed brussels sprouts.
Dessert: Mini pumpkin pies or pecan pie bars

Cost is $24.95 for adults, $8.95 for kids 6-12, and free for kids 5 and under

The Longbranch Restaurant, part of the Longbranch Hotel at 90 Twixt Town Road NE in Cedar Rapids, will have a traditional Thanksgiving Day dinner offering from 10:30 a.m.-2 p.m., with an extensive menu that can be found at their website. If you'd prefer, you can join them for an evening Thanksgiving buffet from 3:30-7:30 p.m.. More details and menu options available here.

Call (319)377-6386 or visit the Longbranch's website for reservations and details.
Daytime lunch cost is $24.99 for adults, $23.99 for seniors, $10.99 for children 12 and under, and FREE for kids 4 and under.
Evening buffet cost is $25.99 for adults, $24.99 for seniors, and $10.99 for kids
Beverage, tax and gratuity are additional cost for both day and evening options.

The Ox Yoke Inn, the traditional family restaurant located at  4420 220th Trail in Amana, unfortunately states via their website that Thanksgiving reservations are currently booked up for this year, but you may still call to get on the waiting list at (319)622-3409

For those who prefer an organic/vegan style menu, there is the Trumpet Blossom Cafe in Iowa City. They are located at 310 E. Prentiss St, Iowa City. According to their Facebook page they have several special items available for Thanksgiving, and you are encouraged to place your order by Sunday, November 19.