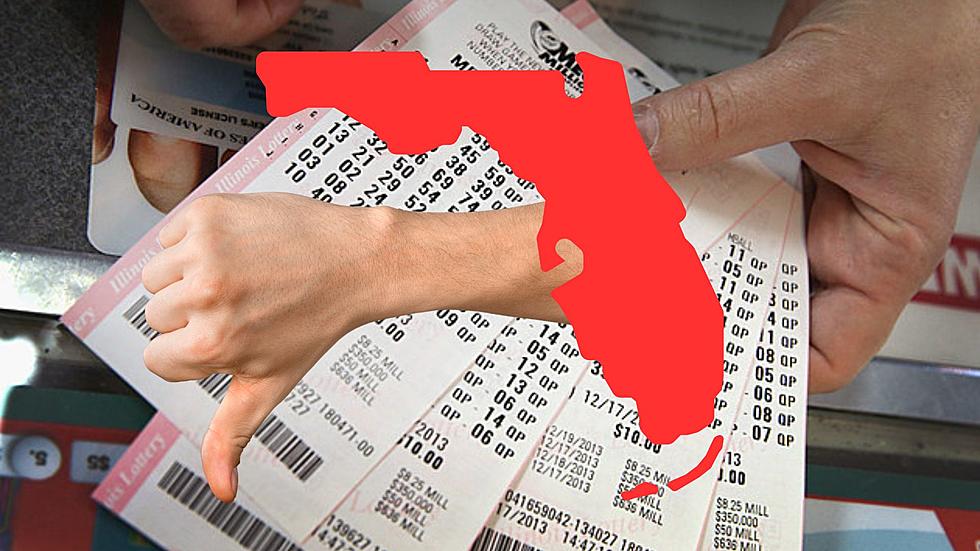 No, You Didn't Win The Lottery. Some Jerk In Florida Did
Canva
Just about everybody threw their $2 (or more) in the ring for Tuesday night's drawing of the Mega Millions Jackpot with a $1.58 BILLION prize, but if you live anywhere that you can play, you can go ahead and just pitch that ticket - unless you live in Florida.
You Didn't Win
One person with more luck than the average bear has matched all six numbers in the Tuesday night drawing for the jackpot, ending a stretch of jackpot building that lasted nearly four months.
Lottery officials announced that the Mega Millions drawing on Tuesday night will have a top prize of an estimated $1.58 billion, making it the largest jackpot the lottery has ever awarded. The cash out option would bring this person a cash option of $783.3 million, according to Mega Millions.
The jackpot has been on the rise since spring - with the previous $20 million prize was won in Syracuse, New York, on April 18th. Five Mega Millions jackpots have been won this year so far, including the previous second-place record for the largest jackpot in the history of the game, at $1.348 billion.
The Largest Jackpots Won In Mega Millions History
$1.58 billion from one ticket in Florida, August 2023.
$1.537 billion from one ticket in South Carolina in October 2018.
$1.348 billion from one ticket in Maine in January 2023.
$1.337 billion from one ticket in Illinois in July 2022.
$1.105 billion from one ticket in Michigan in January 2021.
The Winning Numbers
Tickets for Mega Millions cost $2 per play, and there are 9 total ways to win a prize.
To play, you pick five numbers from 1 to 70 and one Mega Ball number from 1 to 25. You win the jackpot by matching all six winning numbers in the drawing.
The winning numbers for Tuesday's won jackpot drawing 32, 19, 13, 33, and 20 with a Mega Ball was 14 and the Megaplier was 2X.
Read more at USA Today
LOOK: 20 American foods that raise eyebrows outside of the US
Stac



ker
compiled a list of 20 unusual and uniquely American foods that might raise eyebrows outside the U.S.