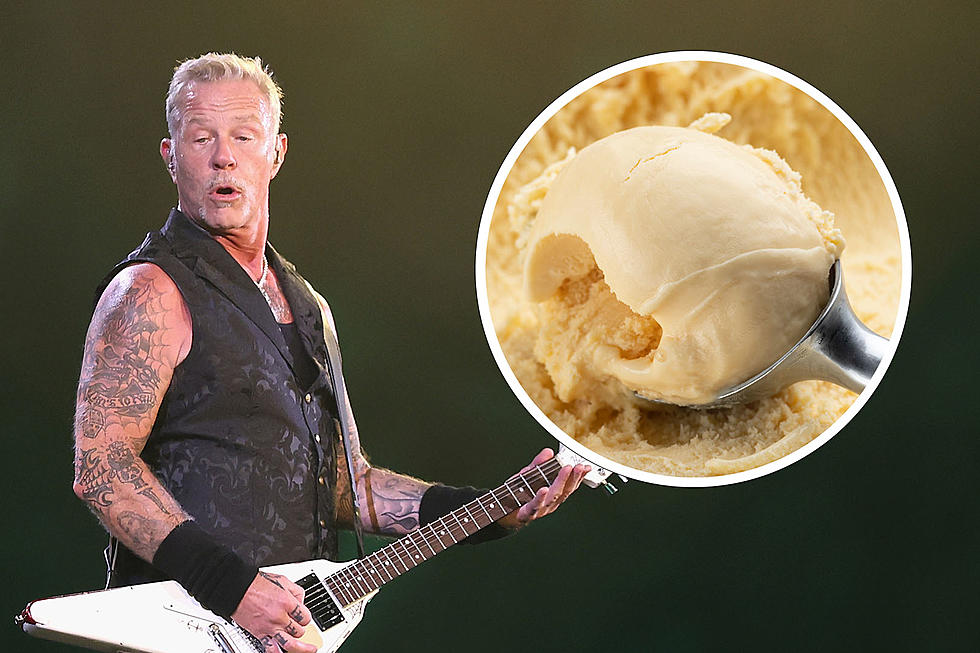 Metallica Have Their Own Guitar-Shaped Ice Cream Now
Christian Petersen, Getty Images / kuppa_rock, Getty Images
Summer isn't over just yet, and if you find yourself in the mood for some ice cream, Metallica have their own guitar-shaped frozen treats now.
Not that it needs to be summer for ice cream, but you get the point.
Metallica teamed up with the low-sugar desert company Enlightened for the guitar-shaped ice cream bars, which are vanilla flavored with a dark chocolate coating. The shape of the desert bars is inspired by one of James Hetfield's guitars, the ESP Truckster. Each gluten-free bar is only 150 calories including 10 grams of sugar, and even better, a portion of the proceeds will go toward Metallica's All Within My Hands Foundation to fight world hunger.
See photos of the bars below.
"We are thrilled to be partnering with All Within My Hands to create a product that not only brings joy to taste buds but also helps to make a positive impact on the lives of individuals facing food insecurity, a mission we have supported through our company history. By enjoying this delicious treat, consumers can join us in making a difference, one delicious bite at a time," Enlightened CEO Michael Shoretz said [via All Within My Hands].
The ice cream bars will be available for purchase at various locations including Sprouts Farmers Market, Wegmans, ShopRite, H-E-B, Weis Markets, Safeway, Foodtown and others. You can see where they'll be available near you through Enlightened's store locator.
READ MORE: The Most + Least Played Song Live off Each Metallica Album
Additionally, All Within My Hands and Enlightened have launched a sweepstakes for fans to enter, and the grand prize is an ESP guitar signed by Metallica. Get more details on how to enter at this location.
Metallica's next performance is set for this Friday (Sept. 9) in Phoenix, Arizona. The show was supposed to take place this past Sunday, but Hetfield unfortunately tested positive for COVID-19, so it had to be postponed. See all of their upcoming dates here.
Every Artist That's Opened for Metallica Over the Last 10 Years
These are all of the acts that have opened for Metallica over the last 10 years.