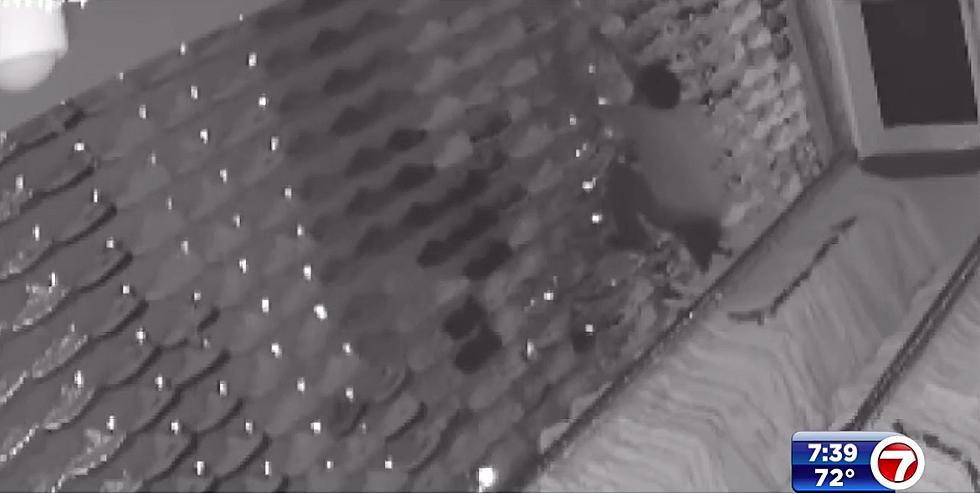 Florida Man Caught On Camera Stealing 20 Left Sneakers From Shoe Store
WSVN
Police are on the lookout for a man who robbed a shoe store in Miami Florida. Last Tuesday around 2:30 a.m. the man tried to get into the "Luxe Miami" shoe store from the front, after he couldn't, he decided to cut a hole in the roof and jump in.
Surveillance footage caught the thief climbing on the wall of display shoes and looking around the shop with his phone flashlight. Although footage only shows one man, police believe the burglar was working with a friend or two.
20-year-old Store Owner Johan Alvarez told WSVN, "When he comes down, he kinda falls off, comes to the ground. He just goes up quickly and starts grabbing every shoe here...It's a big hit, definitely."
Alvares said Luxe Miami suffered a $15,000 to $20,000 loss, and they don't have insurance.
(I know what you're thinking, either this crook stole a lot of shoes, or these sneakers are very expensive. Let me answer that for you.)
Looking at Luxe Miami's Instagram, this shoe ALONE costs $350.
That's $700 for a pair of these white and blue Air Jordans. It is reported that the thief stole 20 left shoes.
Luxe Miami was not the only store targeted. Miami Police officer Michael Vega said, "Whoever was committing the burglary wanted to go directly to these businesses and get those shoes...These crooks, actually made three holes on top of the roof, two of them not being in this business, so it's more of the damage that they caused than what they actually stole...Talking about what they took, they took left feet shoes. They didn't take a pair of shoes, they just took single shoes that were on the rack."
Alverez is hoping the crook or crooks realize they have no matching pair for any shoe and bring them back. "Just come forward, drop off the shoes, leave them here, I don't need to turn them over to the cops. I don't care about that. I pray that God puts some sense into them and just do the right thing at least."
Alvarez said he is offering a reward for the return of the shoes.
Watch Security footage and news clips on WSVN.
Keep Looking at Photos of Tool at The TaxSlayer Center
It was an amazing night of sound and visuals at Tool at the TaxSlayer Center in Moline. Everyone in the building wanted to take pictures during the show, but with the Tool no photo rule, only the final song was really captured. However, with a photo pass, we were able to get more pics for you to remember the night. Of course you know how dark it was, and that they had a curtain up during the photo time but our photographer still captured some amazing pictures from Tool.