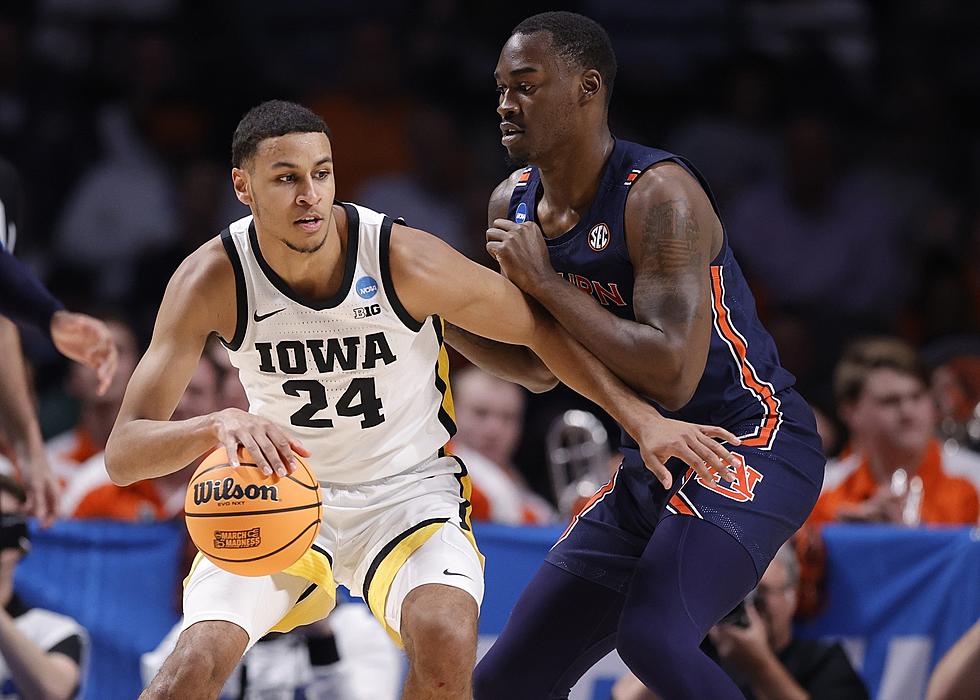 Kris Murray's 1st Round NBA Selection Puts Iowa Twins in Elite Group
Getty Images
Thursday night, Kris Murray (above) was taken in the first round of the NBA Draft. 364 days ago, the same thing happened to his twin brother Keegan. The young men from Cedar Rapids are now part of a very select group of twins who've both been chosen in the first round.
A former Cedar Rapids Prairie prep and Iowa Hawkeye, Kris Murray was taken with the 23rd overall pick by the Portland Trail Blazers.
ESPN analyst Jay Bilas described Kris as a "3 and D forward in the NBA", who will hit the 3-point shot and can also play great defense.
The Murray brothers, just 15 months removed from both playing for the Iowa Hawkeyes, will now each play professionally on the west coast. Keegan (below right) will be starting his second season with the Sacramento Kings next year. A 9-hour drive up Interstate 5, Kris (below left) will be hooping it up as a rookie for the Portland Trail Blazers.
How many times have twin brothers both been taken in the first round of the NBA draft? According to the University of Iowa Sports Information Department, it's only been done five times in history. Last night, two sets of twins accomplished the feat.
In addition to the Murray Brothers, twins Amen Thompson and Ausar Thompson were each selected in the Top 5 last night. Amen by the Houston Rockets and Ausar by the Detroit Pistons. Here are the only five times twin brothers have both been taken in the first round, along with the year for each player:
Keegan Murray (2022) & Kris Murray (2023)
Amen Thompson & Ausar Thompson (2023)
Markieff Morris & Marcus Morris (2011)
Brook Lopez & Robin Lopez (2008)
Horace Grant (1987) & Harvey Grant (1988)
Congratulations on reaching the NBA, Kris! We can't wait to watch both of you next season, as we've been doing for quite a while now.
LOOK: Highest-rated free things to do in Iowa, according to Tripadvisor
LOOK: Where people in Iowa are moving to most
Stacker
compiled a list of states where people from Iowa are moving to the most using data from the U.S. Census Bureau.