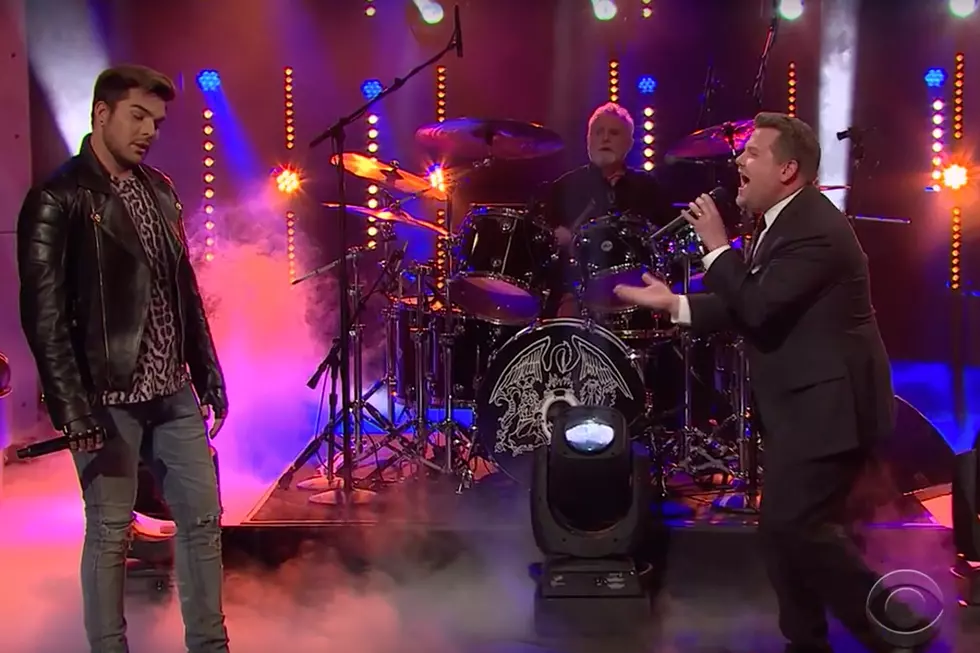 James Corden Challenges Adam Lambert in Queen Frontman Battle
YouTube / Late Late Show With James Corden
If you're of a certain age, you may have had the dream of being able to front Queen. Freddie Mercury was the ultimate showman with killer pipes and an unbelievable range, and yes, he did quite well in our Top Rock Frontmen of All-Time List. Add in the amazing, hard rocking and at times theatrical music laid down by the rest of the band and Queen were almost in a category by themselves. So when Queen revealed they'd be touring this summer, there was a little bit of "what if" by Late Late Show host James Corden, who mused on air that he'd be a better frontman that Adam Lambert.
"In my head growing up, I always that thought I would make a great frontman for Queen," says Corden opening the bit, asking, "Who is it? Who is it now? Adam Lambert does it. I mean, yeah, it's alright. It should be a British man. I'm not saying I'm a better frontman than him, I'm just saying I'm a better frontman than him. That's what I saying."
Of course, Lambert appears out of nowhere and challenges Corden. Corden starts to back down, saying there's no way to prove it cause Queen aren't in attendance, but Lambert ends that notion by calling out Brian May and Roger Taylor.
Lambert throws down the gauntlet, performing a bit of "We Will Rock You" with May and Taylor, but Corden scoffs it off and comes back at them with "Don't Stop Me Now." Despite the title, Lambert does "stop" Corden, who shows off some more variety with "Crazy Little Thing Called Love." But Lambert is up to the challenge mocking Corden as he sings "Another One Bites the Dust." Eventually Corden concedes, before the pair team up on the bit closing "Somebody to Love." Watch it all play out above.
Queen, with Adam Lambert on vocals, will hit the road stateside beginning June 23 in Phoenix. Dates and ticketing information can be found here.
Top 50 Hard Rock + Metal Live Acts of All-Time