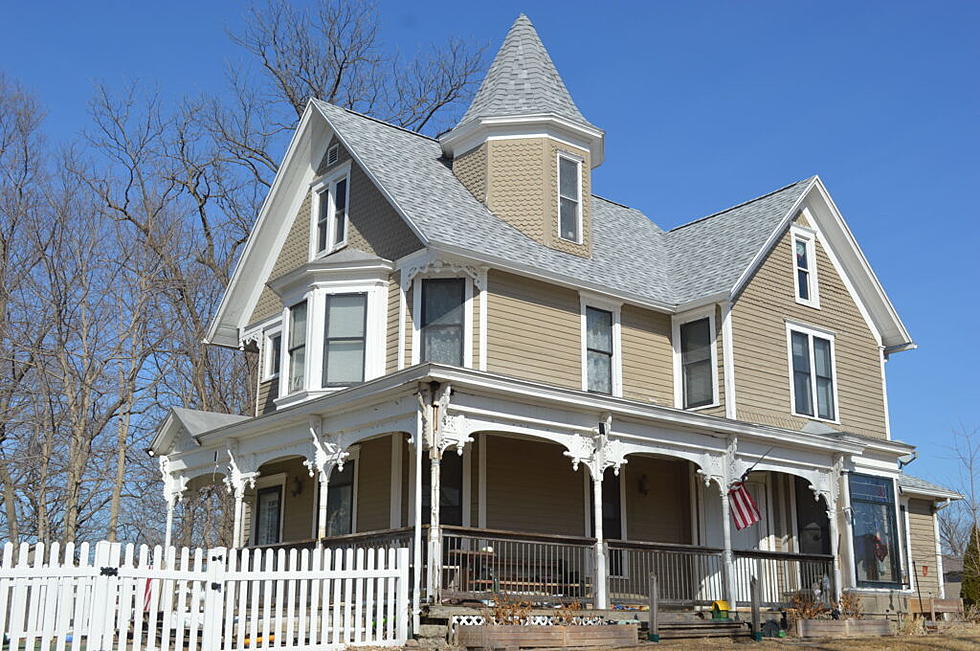 Historic Corridor Home Being Moved to Another City Next Week
Preservation Iowa
The move is going to be a nightmare for traffic, but I'm sure glad it's happening.
Earlier this year, the home above was listed as one of the six properties in Iowa that were most endangered. As you can see from the photo below, it's being saved. The big move happens next week. It should be a sight to see.
The Queen Anne-style home is known as the George House. It was built by Jacob and Martha George in 1892. The George family owned in excess of 450 acres of farmland in the area where the city of North Liberty is now located. The city wouldn't be incorporated until 1913, 21 years after the house was built.
According to Preservation Iowa, in addition to Jacob George's huge farm, he also "operated a successful saw, feed, and sorghum mill and was a vice-president of North Liberty Savings Bank."
The 2,800-square-foot home with 3 bedrooms and 2 bathrooms is being moved after the property where its located was rezoned. Plans call for two buildings, with a total of 24 residential units, to be built on the 1 1/2 acre lot where the George House now sits.
What to do with the house? The developer offered the home for free to anyone willing to pay to move it. Thankfully, a family came forward. They'll be getting a historic home with one beautiful spiral staircase.
According to the City of North Liberty, the house will be moved beginning at 9 a.m. on Tuesday, June 13. The house is at 10 Jaro Way, off North Front Street, in North Liberty. It will be traveling along Front and Penn streets, which will impact travel greatly. Access to and from I-380 along Penn Street (exit 4) is one of the impacted areas, most likely between 9 a.m. on noon on Tuesday. If at all possible, you should avoid that area as significant delays are expected.
Traffic lights at the intersection of Penn Street and Jones Boulevard will be taken down beginning Monday, June 12 at 6:30 p.m. That intersection will then be closed to traffic with a detour in place until signals are and put back up on Tuesday afternoon, once the house has moved through the area.
If you'd like to witness the move, the Ranshaw House lawn (515 Community Drive in North Liberty) will be available Tuesday morning. The George House should go by that area around 10 a.m.
The George House's final destination is Oxford, just over 13 miles from North Liberty, when avoiding the interstate. Let's hope the move allows this piece of Iowa history to live on for decades to come.
Historic 10-Bedroom Mansion for Sale in Eastern Iowa
It was built
in 1900
for
Nicholas J. Schrup
, an ultra-successful Dubuque businessman who also became an Iowa State Senator. After being restored, it opened as The Mandolin Inn Bed & Breakfast in 1988. Located at 199 Loras Boulevard in Dubuque. The home is listed at $430,000 by
Ruhl & Ruhl Realtors
.
Majestic 133-Year-Old Iowa Home Built by Father of Famous Author [PHOTOS]
This home at 900 West 3rd Street in Dubuque was built in 1890. The 5,000+ square-foot house has 5 bedrooms. It was built for Lester C. Bissell, one of the original board members of what would become the Dubuque Chamber of Commerce.
Lester's grandson, Richard Bissell, lived in the home beginning in 1975. His 1953 novel
'7 1/2 Cents'
would eventually become 'The Pajama Game', a Broadway musical that won the Tony Award for Best Musical in 1955. A movie of the same name, featuring Doris Day, would be released in
1957
.
The Bissell Family owned the home from 1890 until 1977 when it was purchased by the Mozena family, which still owns it today.
Angela Mozena of
Mozena Realty Group
is the realtor for the property, which is listed at $895,000.
Iowa's 19th Century 'Red Lady on the Bluff' is For Sale
It was built in 1885 and has been beautifully restored. Located at 1155 Grove Terrace in Dubuque, it's priced at $950,000. The listing agent is
Bob Felderman Realty
.