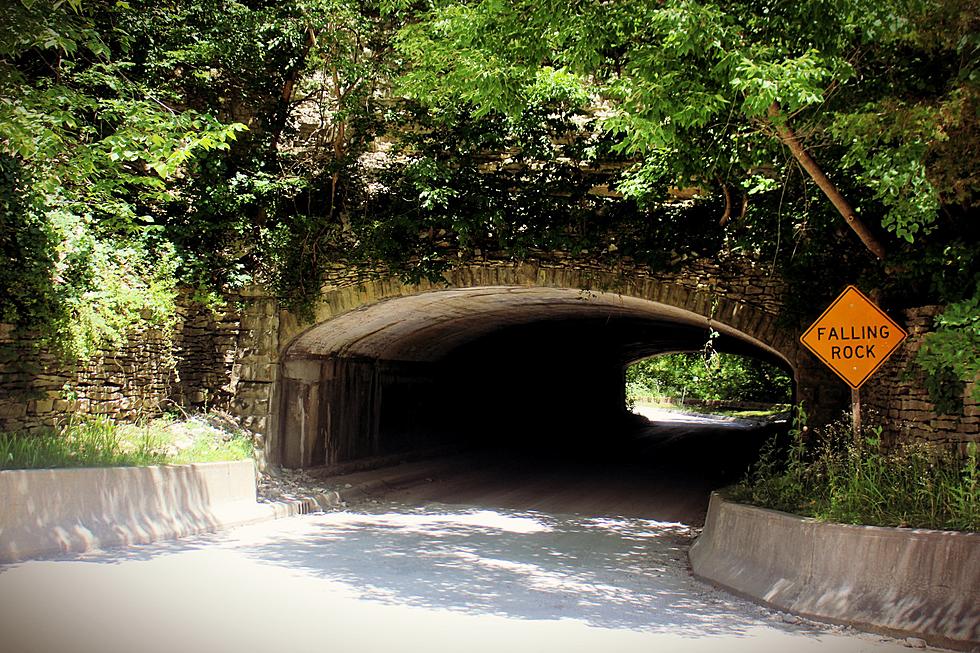 Iowa's Only Highway Tunnel Has Been Around More Than 160 Years
Whitney Walters
One of Iowa's unique pieces of history was first dug by a man and his sons, 163 years ago.
Back in 1858, a sawmill stood not far from where this tunnel, carved into the limestone base of an Iowa park, is today. William Harmon needed a way to get water from the nearby Middle River to power the sawmill. He and his three sons went to work. They dug a tunnel to get the water through... quite a venture when you consider the aptly-named Harmon Tunnel is just under 150-feet long.
The sawmill would eventually become a grist mill. In 1904, it was abandoned. Just over two decades later, in 1925, the tunnel was widened to allow for traffic. A post on the Forgotten Iowa Historical Society indicates the mill was destroyed in 1916. A marker at the site shares some of the tunnel's history.
Bridgehunter says the Harmon Tunnel is 149.9 feet long and is 20.7 feet wide. The tunnel, which was rehabilitated in 1982, is in Pammel Park, southwest of Winterset, Iowa in Madison County. This is how it looks today.
If you'd like to visit the Harmon Tunnel, the address is 1899-1887 Pammel Park Road in Winterset.
Pammel Park also has another unique feature, the Middle River Ford. The photo below shows a vehicle going across during normal times when the water is shallow, anywhere from 2 to 4 inches deep. As you can imagine, it is closed when the water levels are high or during icy conditions of winter. The ford, which was built in the 1920s, allows vehicles to get to the west side of Pammel Park.
Pella Victorian Villa
This amazing home, built in 1871, is listed on the National Register of Historic Places. It has 5 bedrooms, 7 baths (5 full), more than 5,000 square feet, and sits on 1.51 acres. The asking price was reduced to $850,000 on December 31, 2021. It has since been sold. Let's take a look inside.
10 Gorgeous Airbnbs in Galena, Illinois
Looking for a place to stay on your next trip to Galena? Look no further! Here are 10 awesome Airbnbs you can stay in!