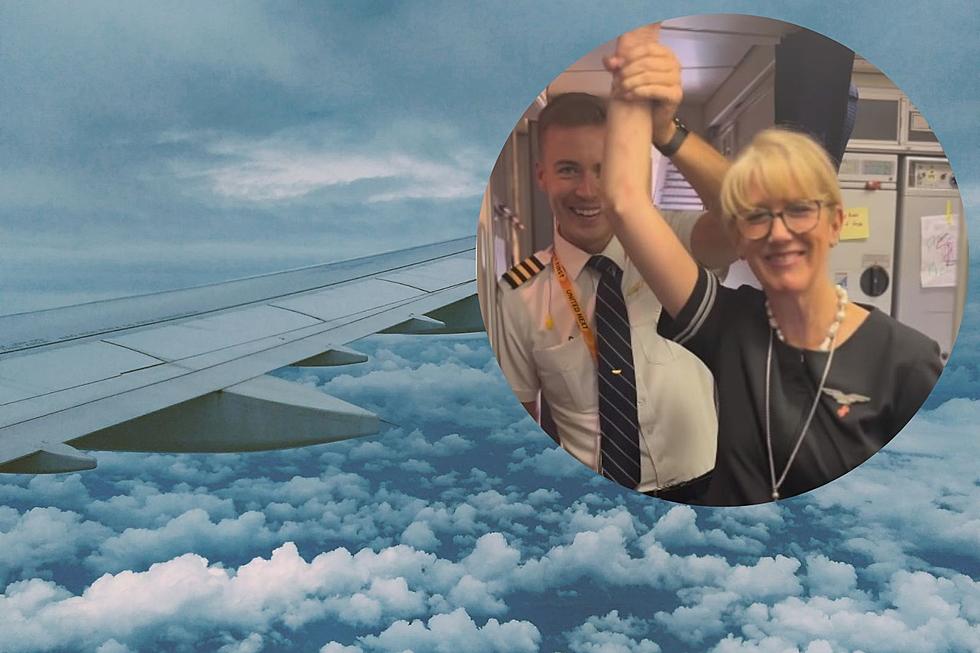 Pilot From Iowa Pays Awesome Tribute to Flight Attendant Mom [WATCH]
doss_the_boss_, Instagram/Canva
Working in the airline industry is a tradition for this family, but a pilot and his mom got to share a very special moment earlier this summer. He took the opportunity to pay tribute to her in a beautiful way.
31-year-old Cole Doss went to the University of Iowa but had a change of heart. A business major, Doss realized he wanted to do what so many others in his family were doing... working in the skies.
Doss then went to flight school at the University of Dubuque and started work as a pilot with United Airlines in May of 2022.
I mentioned that airline work is a family tradition for the Doss family. His dad is a retired flight attendant for American Airlines. His sister works for American Airlines in that capacity now. Doss and his mother, who has been a flight attendant for over 40 years, both work for United Airlines.
Typically, Doss' mom works on flights bound for Asia. When she found out Cole would be on the flight deck for a flight to Spain, she switched with another United Airlines flight attendant. That provided the opportunity for Doss to fly a plane with his mom on board for the first time in his life.
Doss didn't let the moment go unnoticed by the passengers on the flight. Prior to the flight, he grabbed the in-cabin telephone and delivered a message about the upcoming flight and a special tribute to his mom.
In part, Doss said, "... One of these flight attendants working with us today is not only an exceptional one, but also my exceptional mom. She's been one of my biggest supporters in my life and in my career becoming a pilot, ever since my very first flight lesson... To my mom, I love you, and to everyone onboard, welcome aboard our family-friendly skies."
As Doss spoke, you could hear plenty of 'awes' from those on board, and a big cheer erupted when he finished and raised his mom's hand.
Doss shared with Good Morning America that he and his mom savored every moment of the experience, beginning long before the flight. He told them, "We met in the employee parking lot. We took the bus together. We went to security together. We walked to the gate together."
On his Instagram page, Doss described it as the "highlight of his career." Though his mom's career has been much lengthier, I'm willing to bet it was also the highlight of hers.
25 Eastern Iowa Restaurants We Want on 'Diners, Drive-Ins & Dives'
The Food Network show 'Diners, Drive-Ins and Dives' hasn't made very many stops in Iowa, so we wanted to give them a few ideas for their next visit! Our list contains diners, hole-in-the-walls, small town staples, places that have stood the test of time, and restaurants that just have that perfect dive-y vibe. Most of our picks come from the Cedar Rapids/Iowa City areas, but we did include a few favorites that are a bit of a drive! Here are 25 of the places we'd love to see on 'Diners, Drive-Ins and Dives' someday:
LET'S GO: The most popular historic sites in America