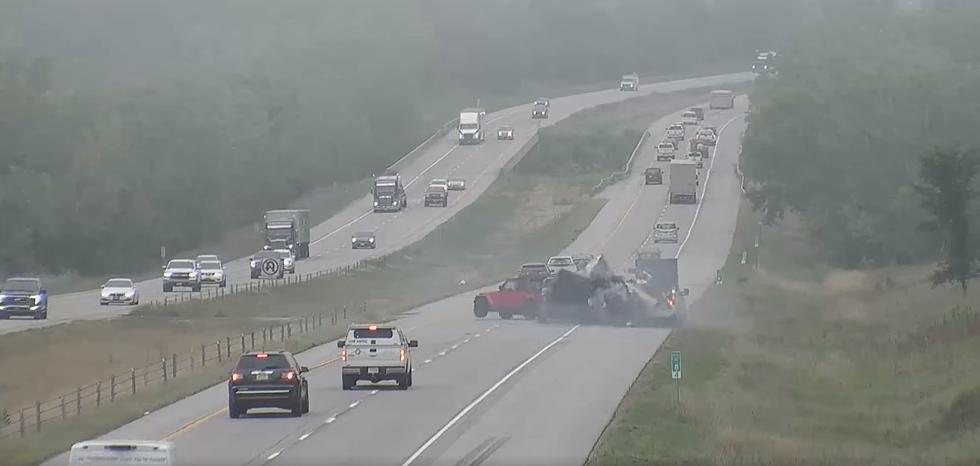 Watch Scary Iowa Crash on I-380 Involving Highway Helper [VIDEO]
Iowa Department of Transportation
A new video reminds us just how fast things can change when you're behind the wheel. Your day can go from great to very bad in a hurry.
A new video from the Iowa Department of Transportation shows the accident on I-380 on Thursday, August 3.
In the video below, a Highway Helper is along the right shoulder of the interstate, with a caution light activated. A Jeep pulling a trailer is traveling in the right lane of the interstate with a full-size pickup just behind it in the left lane.
You can see at the beginning of the video that the trailer of the Jeep has its left signal on as it merges into the left lane. Iowa has a law that requires motorists "must move over or slow down when approaching ANY vehicle stopped on the side of the road with its flashing lights activated, including passenger cars with hazard lights."
It appears the driver of the pickup in the left lane does not see the trailer moving into his lane. In any case, the pickup's brake lights don't appear to come on until well into the incident.
You'll see that the pickup makes contact with the left rear wheel of the trailer, lifting both right side tires on the pickup off the ground. The pickup then pushes the trailer into the stopped Highway Helper vehicle.
The trailer pretty much explodes on contact, pushing the Highway Helper truck into the ditch. The pickup also ends up in the ditch, while the Jeep (with trailer still attached) comes to rest in the left lane. A car that was in front of the Highway Helper appears to be relatively unscathed.
The driver of the Highway Helper vehicle suffered minor injuries in the incident.
I reached out to the Iowa State Patrol to see who was cited in the accident, but haven't heard back.
Best Looking State Patrol Cars In (Almost) Every State
For the past 10 years, the American Association of State Troopers has held a contest to determine which state has the best looking patrol cruiser. Nearly every state police agency submits their best photo of their sharpest patrol vehicle a chance to win the coveted cover photo on the association's annual calendar. From cop cars rushing through blizzards to vehicles on the Grand Ole Opry stage, here are this year's nominees.
See the Must-Drive Roads in Every State