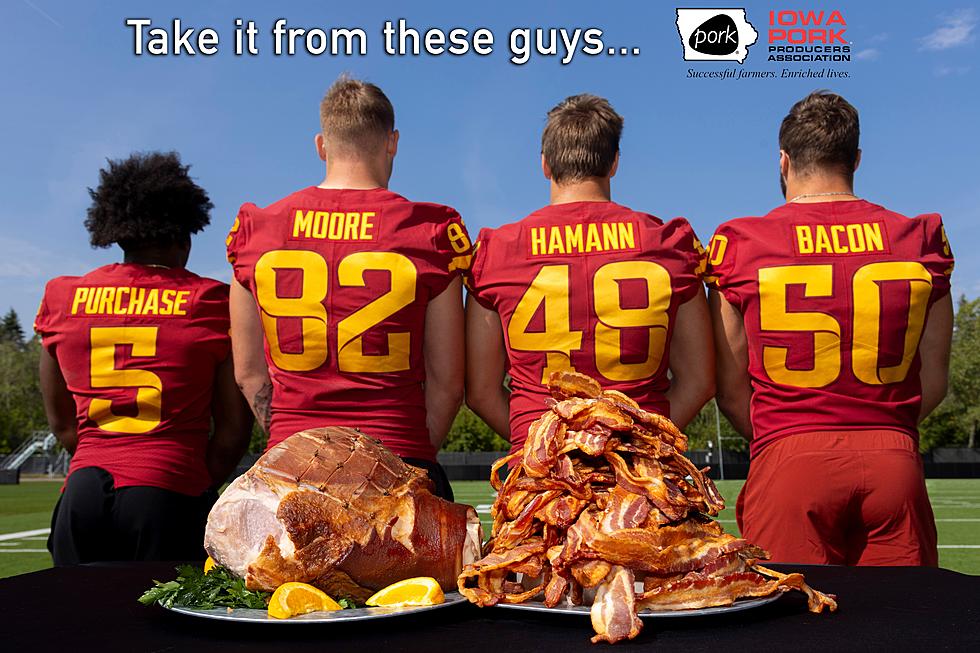 ISU Players Go Viral For Hilarious Marketing Campaign
Courtesy of the Iowa Pork Producers Association
Whoever came up with this idea deserves a raise!
In honor of October being National Pork Month, the Iowa Pork Producers Association are kicking off the celebration with a brilliant new partnership with athletes from Iowa State University.
The IPPA are teaming up with four ISU football players for a hilarious promotion that is capitalizing on a recent viral moment. They struck a NIL (name, image, likeness) deal with the following players Myles Purchase, Tyler Moore, Tommy Hamann, and Caleb Bacon.
If you put their last names side by side it reads, "Purchase Moore Hamann Bacon."
All of these players will have their names and images used for the marketing campaign for National Pork Month.
"These four young men are not only great football players, they also have strong academic records, and great last names! We couldn't be more excited to work with them in this fun initiative to publicize Iowa pork..." said the president of the Iowa Pork Producers Association, Trish Cook.
The image featuring the football players is already going viral!
As another part of these players NIL partnerships with IPPA, the association will be donating $1,000 worth of pork to a food pantry of each player's choice. That's $4,000 going to help feed hungry Iowans!
"Food insecurity remains an issue for many people and we're glad to partner with these Cyclone football players to help their local food pantries," the president of the organization said.
Stay up to date with everything going on in Eastern Iowa by downloading the free station app from your app store. Also, do not forget to follow the station across all social media platforms for the latest stories affecting our neck of the woods.
Pyramid Home In Clear Lake
If you're looking to take a trip to Clear Lake sometime in the near future, why not rest and relax like an Egyption? This pyramid home is available for you to check out on Airbnb.
See Inside Roseanne Barr's Eldon Mansion
Roseanne Barr was set to make a home in Iowa. She and her then-husband Tom Arnold were in the midst of building a mansion in Eldon. It was put on hold when the couple eventually split up. This left a beautiful, unfinished, and kind of spooky mansion behind.