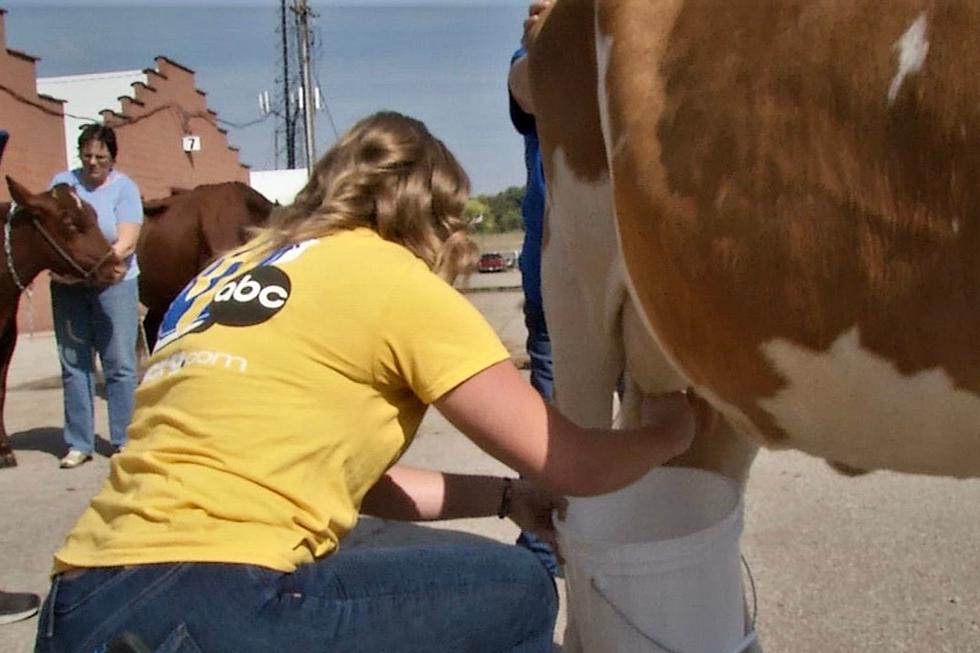 Familiar Face Becomes Champion At National Cattle Congress In Waterloo
Jen Ryherd
The National Cattle Congress Fair is underway in Waterloo, Iowa, and will run through Sunday, September 24th. This jam-packed 5-day event has already been off to a hot start with the Not Quite Brothers concert last night (September 21). For a schedule of all the exciting things happening at the National Cattle Congress fair, whether it's livestock shows, cook-offs, carnival rides, or concerts, visit the 2023 fair schedule.
Someone who you might recognize from your television took home a pretty sweet trophy on Thursday (September 21) after almost finishing in last place, last year.
You might recognize Jan Ryherd from our trusted weather partners on KCRG TV9! Jan grew up in north-central Iowa and has been in love with the "ever-changing weather" since she was young. She loves that her job is never the same and it's always keeping her on her toes.
The 2023 Cow Milking Champion!
Jan took home 1st place in the 2023 celebrity cow milking contest at the National Cattle Congress after finishing pretty close to last place in 2022. In the KCRG video, it looks like Jan and her cow had a tiny mishap at the beginning and kicked around a little bit but they quickly adjusted and they both found their rhythm. The trophy was awarded to whoever could get the most milk in 60 seconds.
Jan spoke on KCRG about the contest as she remembers last year having hardly any milk in her cup. She said
"Milking cows, not easy mind you. Last year, you could hardly tell that my cup had milk in it. Thanks to farmer Jon, he took pity on me last year, he said he saw me struggling, and he gave me some pro tips. I credit farmer Jon.
The coveted Golden Cow trophy will now be displayed, somewhere, in the KCRG building. Way to go Jan!
Want to keep up to date with the latest in local and music news? Download our app! It's completely free and not only will you be the first to know about breaking news, but we'll also keep you updated on concerts and other events coming to the area. You'll also have exclusive opportunities to win tickets. What are you waiting for? Get the free app today.
Country View Dairy Tour
Located in Fayette County, Country View Dairy is home to award-winning yogurt made right on te farm. Come take a look at what the yogurt-making process looks like and the ladies that make it possible!
Welcome To Sherman's Pumpkin Farm and Corn Maze
Sherman's Pumpkin Farm and Corn Maze in Manchester Iowa is the perfect place for families to celebrate fall.