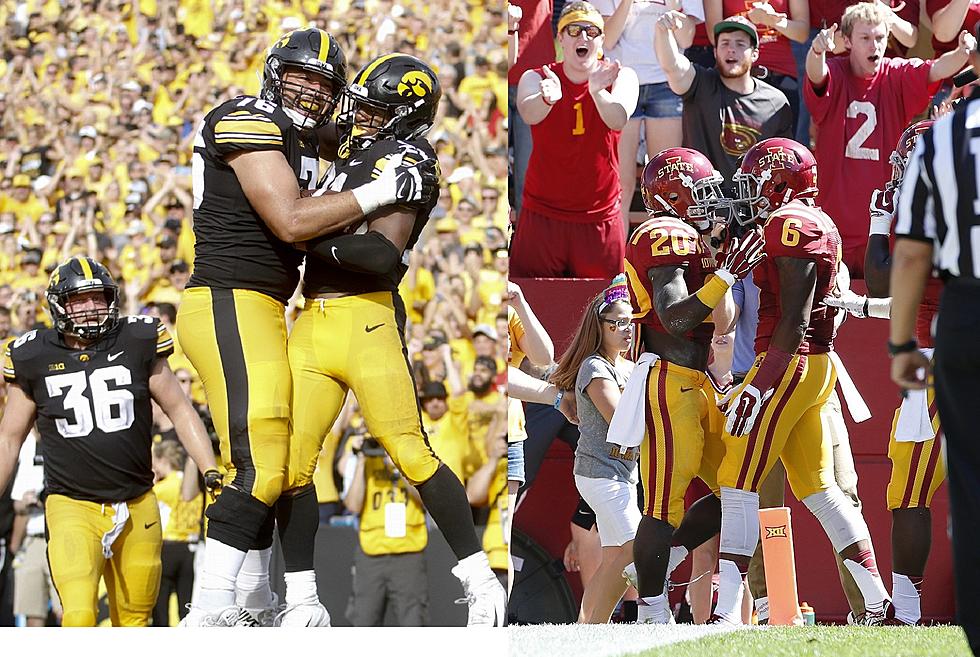 ESPN's 'Gameday' In Ames? It Could Happen!
Matthew Holst & David Purdy, Getty Images
I'm certainly not here to say with certainty that ESPN's 'College GameDay' will be in Ames for the Iowa/Iowa State showdown this fall. But there are some signs that the matchup is being considered!
First of all, let's take a look at the GameDay schedule. The popular college football preview show preview the #1 Clemson/Georgia Tech game on August 29th. Two days later, they'll be in Arlington, Texas for Oregon vs. Auburn. After that, network decision-makers will wait until the Saturday night or Sunday before each GameDay to announce where they're headed to next. The other top contender on the Saturday of the Cy-Hawk matchup? Clemson vs. Syracuse. Why would they do Clemson twice within a month?
Sources continue to say that the Iowa vs. Iowa State game continues to look like a potentially attractive matchup for the network. It certainly helps that BOTH teams are in the preseason Top 25 polls. If both are undefeated going into the Cy-Hawk game, Iowa has Miami of Ohio and Rutgers while ISU hosts UNI, that would also help the cause.
Now before you get too giddy, there are some other games that ESPN could choose to go with. Kansas State vs. Mississippi State features new KSU coach Chris Kleiman taking over for the legendary Bill Synder. #23 Stanford also takes on #17 Central Florida that day. If Stanford knocks off #25 Northwestern and USC in their first two games, they'd be tough to ignore. Either way, it's going to be a great atmosphere at Jack Trice Stadium. ESPN would just be the icing on the cake!