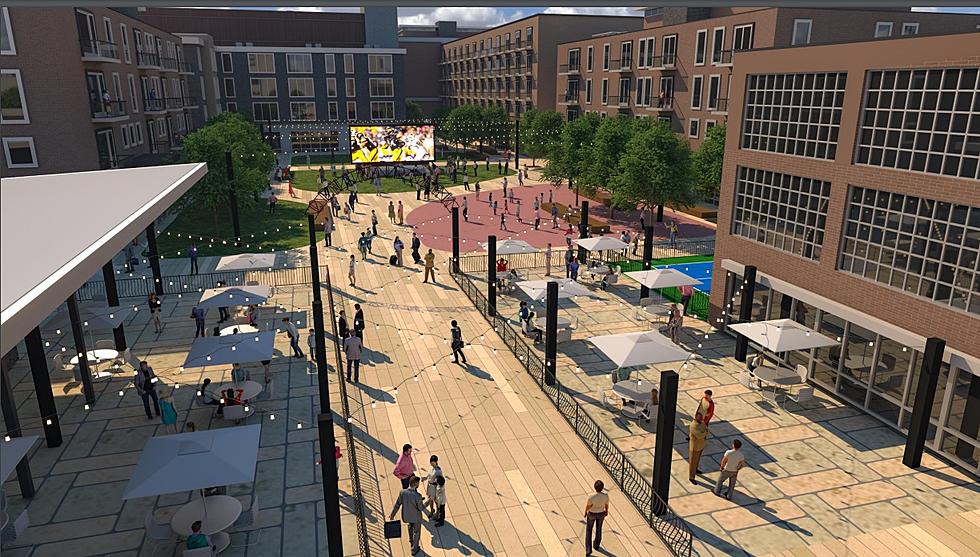 Construction Set to Begin on West Side Cedar Rapids Development [IMAGES]
City of Cedar Rapids
It's been a long, long time coming, but an area near the Cedar River on the west side of Cedar Rapids is finally about to spring to life with construction on a huge project that will take years to complete.
Work should begin during May on a development that is expected to have a total of 11 buildings when complete. The estimated cost of the project is $81.5 million, according to the Gazette, with the buildings expected to be constructed over an 8-year period ending in 2030.
Three successful local developers are behind the project. They are Nate Kaeding, the former Iowa and NFL football player who is now Director of Business Development for Build to Suit, Joe Ahmann, president of the Ahmann Companies, and Matt Swift, CEO and co-founder of Big Grove Brewery.
The group, known as 1st & 1st LLC, got approval in June of 2020 to work out terms on the 8-acre development site that's located between First and Third Street SW, along First Avenue West, in Cedar Rapids.
In September of 2021, the Cedar Rapids City Council gave approval to a project term sheet that included financial incentives. At that time, the project had an estimated cost of $71 million.
This Tuesday, the Cedar Rapids City Council gave their blessing to the development agreement. As part of the agreement, the city will give an 85 percent rebate on taxes generated by each building. The city will also provide a total $1.5 million "completion grant", according to the Gazette, for a plaza that will be part of the project. That grant will be made in two different payments.
The large development will include restaurants, approximately 270 housing units, a Big Grove brewery, at least one hotel, and more. Construction on the hotel is expected in 2023.
Matt Swift says the Big Grove brewery will have a lager system and will focus on traditional beers. Those will likely include beers like you'd find in Germany, as an ode to the heritage of the Amana Colonies area, and the Czech Republic. Cedar Rapids has a well-known Czech Village, also on the west side of the Cedar River.
Pickleball courts will be part of The Pickle Palace which will have a bar and grill on the top floor, along with a rooftop deck that faces the Cedar River.
Likely somewhere near the middle of the 8-year project, a public parking ramp will be built. About $6 million of the cost of the parade is expected to come from the Iowa Economic Development Authority.
Finally, there will be an outdoor plaza for events and the Gazette says Cedar Rapids Economic Development Manager Caleb Mason revealed that the developer will be required to "create an association to plan events and activities there year-round." Mason says the project will amount to "well over $100 million when it's all said and done with tenant build out."
Joe Ahmann said yesterday, "This one is kind of a legacy project. It's one that is so visible that we just have to make sure — and have been working really hard to make sure — that this is spot-on. … We're trying to make it an iconic look and project."
I can't wait to see it take shape.
Development by 1st and 1st, LLC
The Cedar Rapids City Council advanced the project on Tuesday, April 12. Below are renderings of the $81.5 million development from the City Council presentation as well as renderings from the fall of 2021. Construction is expected to begin in May of 2022 and be completed in three phases over approximately eight years.
*The first 5 images are from the April 2021 City Council presentation. The others are from September of 2021 and are noted in the title of each photo.