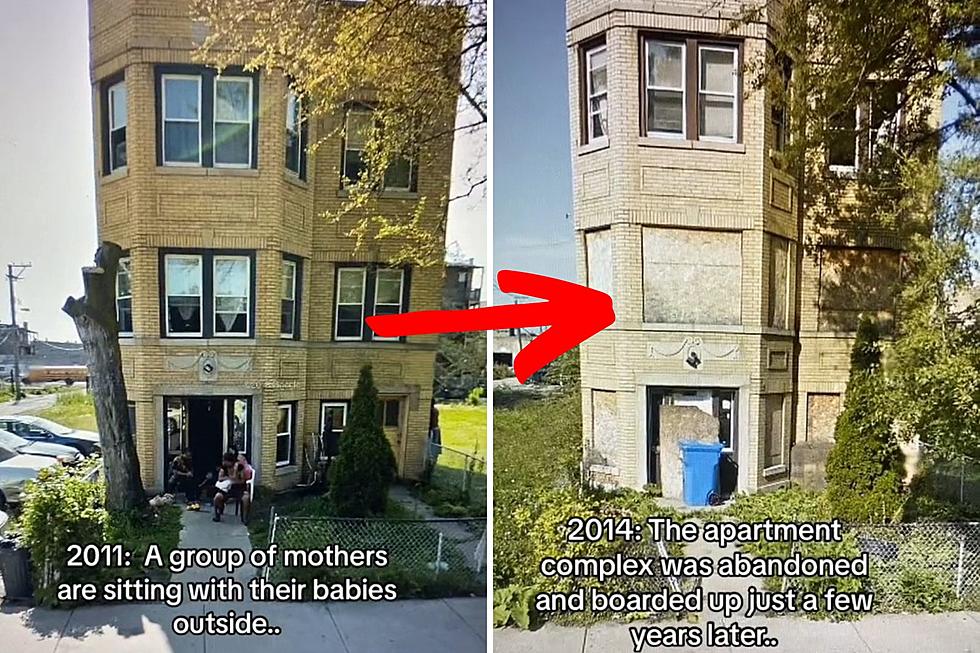 The Tragic Transformation Of A Gorgeous Illinois Apartment Complex
TikTok - @rundownbuildings/Canva
Times have changed since 2009 when this apartment complex in Chicago was filled with families, friends, and laughter.  In just five photos, watch what happens to this building over the years.
If I went to Maps right now, the current photo in front of my apartment has my ex-boyfriend's car in front of my house.  It's a timestamp in my life, which is kinda cool to think about.
It's not always cool to see how neighborhoods have deteriorated, though.
The Tragic Transformation Of A Gorgeous Illinois Apartment Complex
On TikTok, there's a page where you can see all these rundown buildings throughout the country.  One happened to be in Chicago, Illinois.  In just 5 photos, the TikToker shows you how fast life can change in the blink of an eye.
Take a look at the video of this apartment complex that was full of life in 2009, still occupied with growing families in 2011, boarded up and abandoned in 2014, waiting for demolition in 2016, and by 2023 it was completely demolished.
Watch More: Look Inside A Secret Underground City Hiding In Illinois [VIDEO]
What really makes this whole video even more sad?  The tree that had continued to grow through all the years, but it literally got to watch this building flourish and fail.
What a beautiful building that was.  It's really unfortunate that there are so many abandoned buildings left standing around Illinois, especially the south side of Chicago.
ABANDONED $20 MILLION BARRINGTON, IL MANSION
Gallery Credit: Emily
PHOTOS INSIDE ABANDONED RETRO ILLINOIS DINER
Gallery Credit: Emily