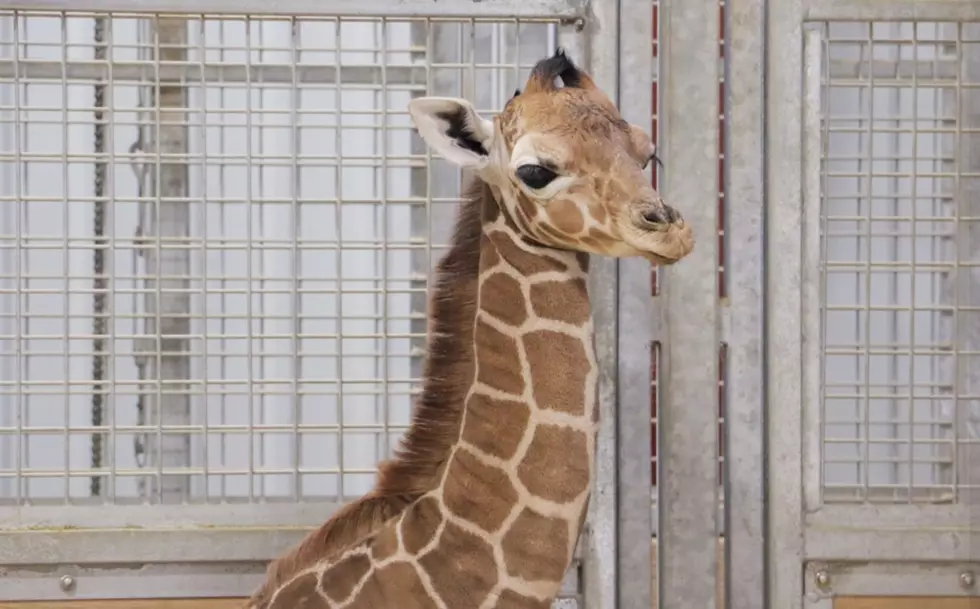 Iowa Zoo Welcomes Adorable Baby Giraffe [PHOTOS/VIDEO]
Blank Park Zoo, Facebook
Blank Park Zoo in Des Moines has the tallest new baby you'll ever see. A baby giraffe arrived at the zoo earlier this week. According to the zoo's Facebook page, the newborn already stands six-feet tall and weighs 125 pounds!
The big guy was born Monday, January 18 at the Des Moines zoo to parents, Skye and Jakobi. Mom, Skye, is six-years-old. She's been at Blank Park Zoo since 2015. This is her first baby calf. Father, Jakobi, is 15-years-old. He's been a father several times in the past.
As you might imagine, the zoo staff is thrilled. Dr. Drew Gall, Blank Park Zoo veterinarian, says,
We are fortunate that the birthing process was quick and Skye has been a great mother, allowing the calf to nurse quickly.
Supervisor of large mammals at the zoo, Kayla Freeman, gushed,
We are so excited to welcome this healthy boy to our herd. It has been refreshing to watch Skye become such a great mom and Zola our other female giraffe is also doting and investing so much interest in him. We can't wait for our community to meet him.
Starting next Thursday, January 28, the zoo will be releasing possible names for the new calf. Voting will be free with details available on the zoo's website soon.
This great news from Blank Park Zoo comes eight months after a 24-year-old giraffe named Sam (Samburu) passed away at the zoo last May after 19 years in Des Moines.
You can see video and photos of the giraffe calf below. Do any names come to mind?
Enter your number to get our free mobile app
Meet the new giraffe born at the Blank Zoo in Des Moines
WATCH OUT: These are the deadliest animals in the world