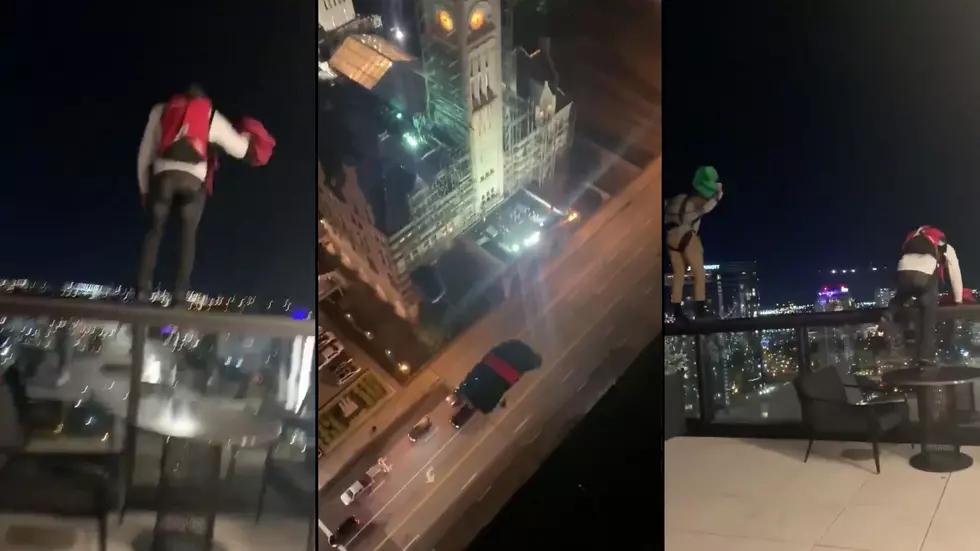 BASE Jumpers Leap From Nashville Hotel
Amanda Bagley via Twitter
Two BASE jumpers leapt from the outdoor rooftop bar of the Grand Hyatt Hotel in Nashville, causing "mass panic" among bar goers.
"I would be lying if (I said) I wasn't experiencing some trauma. There was staff shouting that you can't do that," Bagley told WSMV TV.
"I noticed one of the guys walk in because of his gear. He just stuck out with the helmet and the GoPro," Bagley told USA TODAY. "Then I scanned lower to see the harness, then the bundled parachute in his right hand. In a moment of focus, I started filming. I wanted to make sure I captured what was going on."
The event happened around 6pm on January 1st. Hyatt confirmed to WKRN that the men were staying at the hotel, and they have been banned after the incident, according to a statement.
"We can confirm that an isolated situation occurred in the early evening on January 1, 2021, at Grand Hyatt Nashville involving two guests of the hotel. Two guests wearing parachutes jumped to the street level from the hotel's rooftop lounge," the statement said. "The hotel immediately engaged local authorities, and the guests were subsequently evicted and banned from the hotel. We vehemently condemn this kind of reckless behavior."
Nashville Police say the men were apprehended and one suffered a broken ankle. No arrests have been made but the incident is under investigation.
Enter your number to get our free mobile app
Essential Winter Emergency Kit Items