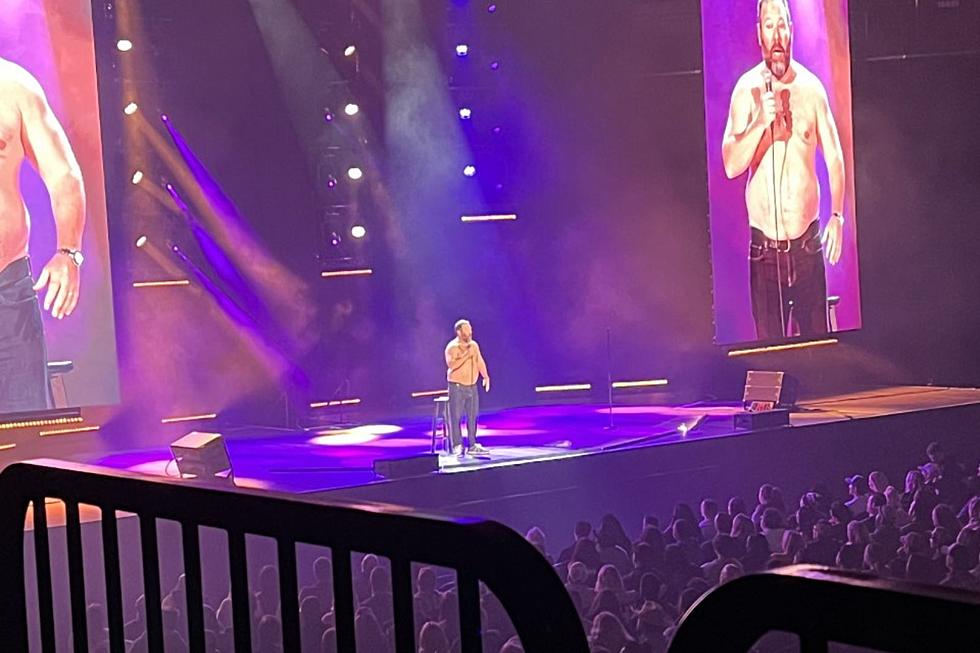 I Chugged A Beer With Comedian Bert Kreischer
Gabe
One of the best comedians in the world made a stop in Iowa yesterday (Feb-23) at the Aliant Energy Powerhouse. Some know him as The Machine, his kids call him Big Guy and his wife calls him Bert. Bert Kreischer brought his Tops Off The World Tour to Cedar Rapids and my fiance and I saw one amazing comedy show. It's by far the biggest and probably the best comedy show I've ever been to and I've been lucky enough to see a few of the biggest comedians in the world. While Bert might not know this, I chugged a beer with him yesterday.
The insanely popular comedian is known for a lot of different reasons. He does 4 podcasts, he's a content creator, he's in the middle of a stand-up comedy world tour, he acts, he drinks, and he never wears a shirt onstage. One of his most popular podcasts is called 2 Bears 1 Cave and he cohosts the show with fellow comedian Tom Segura. If you've never seen the clip of Bert revealing his love for Kool-Aid... enjoy. This 50-year-old man starts his day off by drinking 64oz of straight-up sugar.
*NSFW PROFANITY WARNING*
If you've never seen any of Bert's stand-up, one thing you'll always see him doing while performing is drinking. Last night he chugged at least 6 beers during his 2-hour routine. Going into the show, I knew Bert would surely be raising a toast to the fans and I didn't want to miss my opportunity to share a beer chug with him. For the rest of my life, I'm telling people I chugged a beer with the world-famous comedian, even if he was unaware of my participation.
I apologize for the photo being a little blurry but it's hard to chug a beer and take a steady picture with one hand. The last thing I wanted was to spill it all over myself...
One of the most famous stories Bert tells is about the time he got involved with the Russian mafia while he was in college. When he was attending school at Florida State University, Bert thought he had signed up for a Spanish class, and it took him 3 classes before he realized "I don't think this is Spanish." On Bert's YouTube page, this story has over 50 million views. Bert's 14-minute story is so famous, it was actually turned into a full-blown movie.
*NSFW PROFANITY WARNING*
Bert performed for a little over 2 hours long and had the Aliant Energy Power House laughing the entire time. He talked about his family, his crazy life, his hilarious kids, and he even included his love for the state of Iowa.
Towards the end of the show, he saluted the packed crowd and thanked everyone. He said, "this state has always been really good to me and I love each and every one of you. I'm the luckiest guy in the world. Please check out my new movie The Machine this May. Let's turn it into a blockbuster."
This show will be hard to beat and it's a fantastic memory my fiance and I got to share together. Bert, thank you for including Iowa as one of your tour stops, and thank you for one hell of a Thursday night!
10 Myths About Iowa That Even Some Natives Believe
Iowa is an ag state with more heads of hog than human, but there's a lot more to us than crops and critters. How many people actually know that, however?
What Non-Iowans Think of Iowa
Iowa is the capital of the Midwest! Ok, that's unofficial, but it's my stance. Here's what NON Iowans think of us.