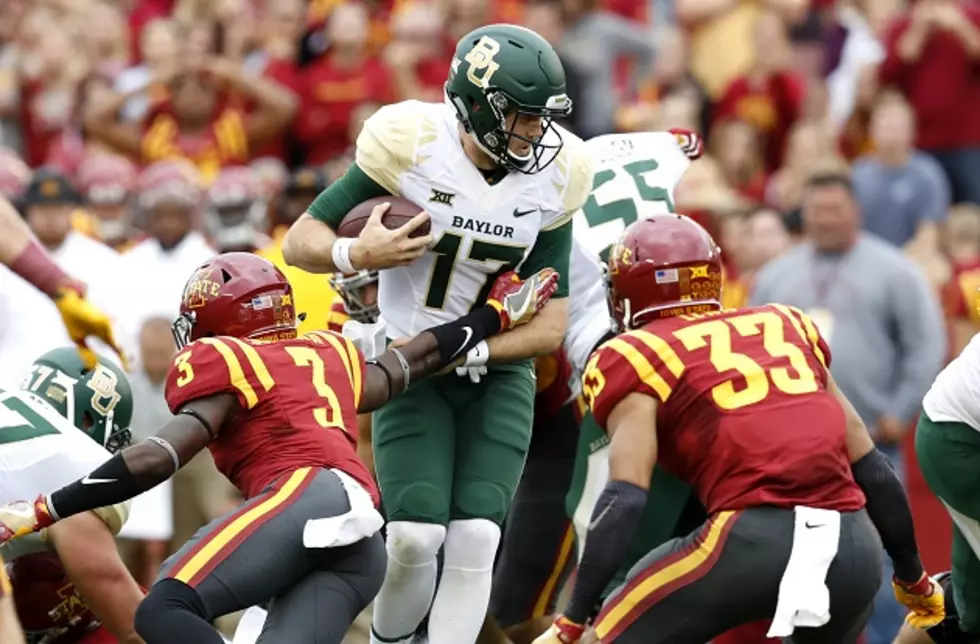 Iowa State Football Player Being Held Without Bond
David Purdy, Getty Images
Mike Johnson (#3 above), a defensive back on the Iowa State football team, has been suspended following a fight with his girlfriend that has led to his arrest. Johnson is facing a charge of domestic assault strangulation with injury. He's being held without bond.
According to the Des Moines Register, a complaint alleges Johnson, 22, got into a fight with his girlfriend about the music being played on their cell phones as well as social media posts. When each tried to grab the others phone, a fight ensued.
Johnson's unnamed girlfriend, says he used both hands to strangle her, she had problems breathing, and "saw stars" afterward. The criminal complaint also states she had dried blood on her body, a swollen upper lip, and marks on one cheek, behind an ear, and on her neck. She also says she felt sick after the fight.
In the complaint, Johnson says she was attempting to cause damage to his phone as well as a laptop. He reported to an Iowa State University police officer that he had to push her down on a couch and then lean on her to hold her there. He says he was bitten during the fight.
Iowa State football coach Matt Campbell made this statement after the arrest:
"We are aware of Mike Johnson's arrest and allegations associated with his arrest. Our program has zero tolerance for domestic violence. Mike has been suspended from all team activities, including practice, under the student-athlete code of conduct policy as we gather more information. His long-term status with the team will be determined once we gain more facts."
Johnson played in 12 Iowa State games during his redshirt freshman season last fall. He had 44 tackles during the season.