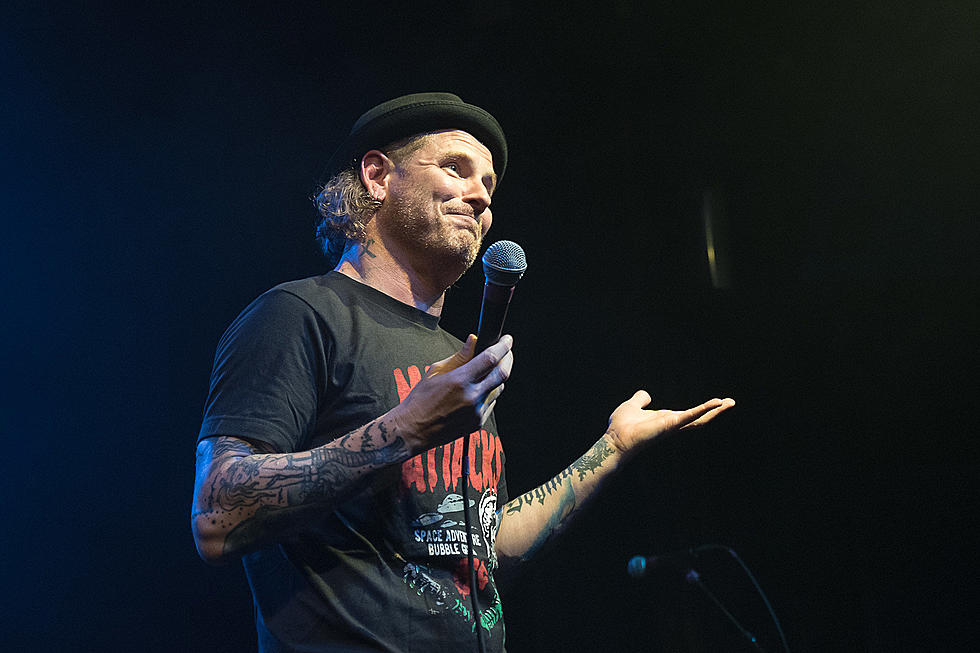 Corey Taylor 'Starting to Get That Itch' for New Novel + Rant Book
Maria Ives
Not only does Corey Taylor balance Slipknot and Stone Sour, but he's also developed a solid book career over the last decade. During a Facebook Live chat with fans Wednesday (Aug. 14), Taylor offered an update on his literary pursuits.
"I'm kind of toying with a couple [ideas]," stated the singer. "I kind of took a break from writing books after 'America 51,' just because it took such a toll on me, mentally, that I really had to step away for a while. But I'm starting to get that itch again."
He added, "I've actually got a really great idea for a novel, as well as a cool idea for another rant book as I like to call them. Probably in the next year or so I'll start working on that, but right now my main focus is Slipknot."
Taylor's bibliography started with 2010's "Seven Deadly Sins: Settling the Argument Between Being Born Bad and Damaged Good." He followed that in 2013 with "A Funny Thing Happened on the Way to Heaven (Or How I Made Peace With the Paranormal and Stigmatized Zealots & Cynics in the Process)." His third book, one of his rant books, was 2015's "You're Making Me Hate You: A Cantankerous Look at the Common Misperception That Humans Have Any Common Sense Left." His most recent effort was 2017's "Area 51: A Probe Into the Realities That Are Hiding Inside 'The Greatest Country in the World.'"
As stated, Slipknot will be busy for quite some time. The band has spent much of the summer promoting their We Are Not Your Kind album, which just arrived last week. Plenty more touring lies ahead, with dates currently booked into December of this year. To look into tickets for Slipknot's live shows, head here.
Meanwhile, check out more of Corey Taylor's Facebook Q&A in the player below.
See Corey Taylor in the Top 50 Rockers Who've Been in Multiple Successful Bands